Baptist Medical Group da la bienvenida a Martucci
PENSACOLA, Fla.–Baptist Medical Group le da la bienvenida al experimentado cirujano general Jean Pierre Martucci, M.D., y a su red de médicos multiespecialistas. El Dr. Martucci es un cirujano general con experiencia certificado que se toma el tiempo de escuchar y conocer a sus pacientes para proporcionarles un plan de tratamiento quirúrgico integral que mejor se adapte a sus necesidades.
El Dr. Martucci obtuvo su título de médico en la Universidad Central de Venezuela en Caracas, Venezuela y completó su pasantía en el Jackson Memorial Hospital de la Universidad de Miami en Miami, Florida. Completó su residencia en la Cleveland Clinic Foundation en Cleveland, Ohio, que ocupa el cuarto lugar en el condado según US News y World Report.
Como parte de la práctica del Baptist Medical Group – Surgery, el Dr. Martucci ahora da la bienvenida a nuevos pacientes en su oficina ubicada en Baptist Towers, 1717 North E St., Suite 205, en Pensacola, Florida. Para obtener más información sobre el Dr. Martucci o programar una cita, visite BaptistMedicalGroup.org o llame al 850-437-8810.
Baptist Medical Group Welcomes Martucci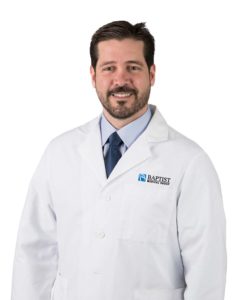 PENSACOLA, Fla. – Baptist Medical Group welcomes experienced general surgeon Jean Pierre Martucci, M.D., to its multispecialty physician network. Dr. Martucci is an experienced board-certified general surgeon who takes the time to listen and get to know his patients to provide them with a comprehensive surgical treatment plan that best meets their needs.
Dr. Martucci earned his medical degree at Central University of Venezuela in Caracas, Venezuela and completed his internship at Jackson Memorial Hospital at the University of Miami in Miami, Florida. He completed his residency at the Cleveland Clinic Foundation in Cleveland, Ohio, which is ranked fourth in the county by US News and World Report.
As part of the Baptist Medical Group – Surgery practice, Dr. Martucci now welcomes new patients at his office located at Baptist Towers, 1717 North E St., Suite 205, in Pensacola, Fla. To learn more about Dr. Martucci or to schedule an appointment, please visit BaptistMedicalGroup.org or call 850-437-8810.
[adrotate group="1"]