Baptist Health Care inicia la construcción del nuevo campus de salud
PENSACOLA, Fla. – Baptist Health Care (BHC) celebró hoy un evento virtual para la construcción de su nuevo campus de salud. El evento se transmitió a través de Facebook Live y YouTube Live. El evento se llevó a cabo justo 71 años después de la inauguración de la instalación principal de BHC, Baptist Hospital.
El nuevo campus de salud representa la inversión más grande en instalaciones, servicios y programas de atención médica en la historia del noroeste de Florida. Proporcionará una ubicación central para la atención clínica, programas y servicios a los que los pacientes tendrán acceso más fácil. Se espera que la construcción se complete en 2023.
La construcción del nuevo campus se anunció en junio del 2019. Desde entonces, el trabajo preliminar ha estado en curso, incluida la finalización del financiamiento, la selección de socios de construcción, la preparación inicial del sitio y la planificación del diseño. Baptist dice que se compromete a involucrar a empresas y proveedores locales, pertenecientes a minorías, mujeres y veteranos en este proyecto de transformación para que los beneficios de esta inversión se sientan en toda la comunidad.
Puede encontrar más información, incluido el video del evento, y las actualizaciones continuas sobre el proyecto en eBaptistHealthCare.org y Facebook.com/BaptistHealthCare.
Baptist Health Care Breaks Ground on New Health Campus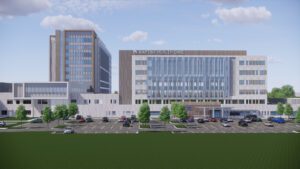 PENSACOLA, Fla. – Baptist Health Care (BHC) held a virtual groundbreaking event for the construction of its new health campus earlier today. The event was streamed via Facebook Live and YouTube Live. The event was held 71 years to the day from the groundbreaking of BHC's flagship facility, Baptist Hospital.
The new health campus represents the single largest investment in health care facilities, services and programs in Northwest Florida's history. It will provide a central location for clinical care, programs and services that will be easier for patients to access. Construction is expected to be completed in 2023.
The construction of a new campus was announced in June 2019. Since that time, preliminary work has been ongoing including finalization of financing, selection of construction partners, initial site preparation and design planning. Baptist says it is committed to engaging local, minority, woman, and veteran-owned companies and vendors in this transformational project so that the benefits of this investment can be felt throughout the community.
More information, including video from the event, and ongoing updates about the project can be found at eBaptistHealthCare.org and Facebook.com/BaptistHealthCare.