Alabama y Florida disminuyen las restricciones para algunos negocios a partir del lunes
FLORIDA Y ALABAMA – El gobernador de la Florida Ron DeSantis y la gobernadora de Alabama Kay Ivey anunciaron el viernes que algunos negocios podrán reabrir a partir del lunes 11 de mayo bajo las pautas sanitarias y de distanciamiento social.
En la Florida las barberías, salones de uñas y peluquerías podrán reabrir según un tuit del gobernador. La reapertura el lunes aplica para los 64 condados que están actualmente en la Fase 1 del plan de reapertura del estado. Restaurantes y tiendas minoristas pueden operar al 25 por ciento de su capacidad.
En Alabama la actualización de la orden Safer-At-Home (Más seguro en casa) anunciada por la gobernadora contiene varios cambios que entrarán en vigencia el lunes a las 5 p.m. Estos incluyen:
Reuniones no laborales: Eliminar el límite de 10 personas, lo que significa que se pueden realizar servicios religiosos. Todavía se requiere mantener 6 pies de distancia entre una persona que no sea del mismo hogar.
Restaurantes, bares y cervecerías: Pueden abrir con asientos limitados en la mesa, 6 pies entre las mesas y están sujetos a reglas y pautas de saneamiento adicionales
Instalaciones deportivas (Centros de acondicionamiento físico y gimnasios comerciales): Las instalaciones deportivas pueden abrir sujetas a reglas y pautas de distanciamiento social y saneamiento. Las actividades atléticas especificadas anteriormente todavía no están permitidas.
Proveedores de servicios de contacto cercano: Los proveedores de servicios de contacto cercano (como peluquerías, peluquerías, salones de uñas, servicios de tatuajes) pueden estar sujetos a reglas y pautas de distanciamiento social y saneamiento.
Playas: Abiertas pero debe practicar el distanciamiento social.
La orden en Alabama mantiene un límite de ocupación del 50 por ciento en todas las tiendas minoristas. Los lugares de entretenimiento, clubes nocturnos, teatros y boleras permanecerán cerrados.
En la conferencia de prensa, las autoridades de Alabama mencionaron que es más importante que nunca que las personas mantengan el distanciamiento social y una buena higiene, así como el uso de coberturas faciales.
En una Florida aun no se han dado más detalles sobre las medias de la reapertura de las peluquerías y salones de uñas.
Alabama and Florida reduce restrictions for some businesses beginning Monday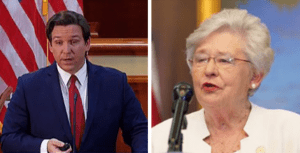 ALABAMA and FLORIDA – Florida Governor Ron DeSantis and Alabama Governor Kay Ivey and announced on Friday some businesses may reopen beginning Monday, May 11 under sanitary and social distancing guidelines.
In Florida, barbershops, nail salons, and hair salons may reopen according to a governor's tweet. The reopening on Monday applies to the 64 counties that are currently in Phase 1 of the state's reopening plan. Restaurants and retail stores can operate at 25 percent of capacity.
In Alabama, the Governor's update to the Safer-At-Home order announced by the governor contains several changes that take effect Monday at 5 p.m. These include:
Non-work meetings: remove the limit of 10 people, which means that religious services can be performed. It is still required to keep 6 feet of distance between a person who is not from the same household.
Restaurants, Bars, and Breweries: May open with limited table seating, 6 feet between tables, and are subject to additional sanitation rules and guidelines
Sports facilities (Fitness centers and commercial gyms): sports facilities may open subject to rules and guidelines for social distancing and sanitation. The athletic activities specified above are not yet allowed.
Close contact service providers: Close contact service providers (such as hairdressers, hair salons, nail salons, tattoo services) may be subject to rules and guidelines for social distancing and sanitation.
Beaches: Open, but must practice social distancing.
The Alabama order maintains a 50 percent occupancy limit at all retail stores. Entertainment venues, nightclubs, theaters, and bowling alleys will be closed.
At a press conference conference, Alabama authorities mentioned that it is more important than ever that people maintain social distance and good hygiene, as well as the use of facial covers.
In Florida, no further details have been released on the reopening averages for hair salons and nail salons.
[adrotate group="1"]