ACLU publica el 'aviso de viaje' de Texas: Viajar a Texas puede resultar en una violación de los derechos constitucionales, ACLU advierte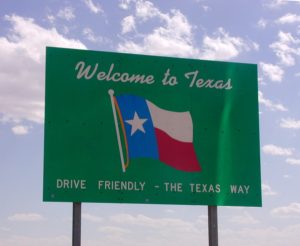 WASHINGTON – El American Civil Liberties Union emitió una "alerta de viaje" informando a cualquiera que planea viajar a Texas en un futuro próximo para anticipar la posible violación de sus derechos constitucionales cuando sea detenido por la policía.
La alerta viene en medio de la aprobación de una ley de Texas conocida como SB4. La ACLU dice que la ley da a los oficiales de policía autoridad en el estado para investigar el estatus migratorio de una persona durante una parada de tráfico de rutina, llevando a un perfil racial generalizado, a un escrutinio sin fundamento y a detenciones ilegales de ciudadanos y no ciudadanos presuntamente "extranjeros" Cómo se ven o suenan. La alerta de viaje se aplica a todos los viajeros que viajan a Texas, incluyendo viajeros estadounidenses de otros estados y ciudadanos estadounidenses. Además, esta alerta se aplica a todos los encuentros con la policía federal, estatal y del condado incluyendo policía local y sheriffs.
SB4 requiere que la ley de Texas cumpla con el uso de las solicitudes de detención por parte del gobierno federal, que pide a las autoridades locales que detengan a las personas para el  Immigration and Customs Enforcement (ICE, por sus siglas en inglés), aunque carezcan de la autoridad legal para hacerlo.
"Planeamos luchar contra esta ley racista y equivocada en los tribunales y en las calles. Hasta que lo derrotemos, todos los que viajan en o hacia Texas deben estar conscientes de lo que les espera," dijo Terri Burke, director ejecutivo de la ACLU de Texas. "El Estado de la Estrella Solitaria se convertirá en un estado de 'muéstreme sus papeles', donde cada interacción con la policía puede convertirse en un interrogatorio de ciudadanía y potencialmente un arresto ilegal."
Entre 2008 y 2012, el ICE solicitó que la policía local tuviera 834 ciudadanos estadounidenses, algunos de los cuales posteriormente pasaron días en la cárcel como resultado. La ACLU dice que bajo SB4, el estado de Texas está poniendo los derechos de sus residentes, incluyendo ciudadanos de los EE.UU., en peligro extremo.
SB4 entrará en vigor el 1 de septiembre de 2017. Sin embargo, la ACLU se preocupa de que algunos agentes de la ley pueden comenzar a tratar a los residentes y viajeros injustamente ahora. La organización aconseja a cualquier persona que cree que sus derechos han sido violados debido a SB4 para ponerse en contacto con la ACLU de Texas al 1-888-507-2970.
Los materiales de ACLU "Conozca sus derechos" están disponibles en una variedad de idiomas en www.aclu.org/know-your-rights.
ACLU Issues Texas 'Travel Advisory': Traveling to Texas May Result in Violation of Constitutional Rights, ACLU Warns
WASHINGTON — The American Civil Liberties Union issued a "travel alert" informing anyone planning to travel to Texas in the near future to anticipate the possible violation of their constitutional rights when stopped by law enforcement.
The alert comes amid the passing of a Texas law known as SB4. The ACLU says law gives police officers authority in the state to investigate a person's immigration status during a routine traffic stop, leading to widespread racial profiling, baseless scrutiny, and illegal arrests of citizens and non-citizens alike presumed to be "foreign" based on how they look or sound.  The travel alert applies to all travelers to Texas, including U.S. travelers from other states and U.S. citizens.  In addition, this alert applies to all encounters with federal, state, county law enforcement including local police and sheriffs.
SB4 requires Texas law enforcement to comply with the federal government's constitutionally flawed use of detainer requests, which ask local law enforcement to hold people for U.S. Immigration and Customs Enforcement (ICE), even when they lack the legal authority to do so. "We plan to fight this racist and wrongheaded law in the courts and in the streets. Until we defeat it, everyone traveling in or to Texas needs to be aware of what's in store for them," said Terri Burke, executive director of the ACLU of Texas. "The Lone Star State will become a 'show me your papers' state, where every interaction with law enforcement can become a citizenship interrogation and potentially an illegal arrest."
Between 2008 and 2012, ICE requested local law enforcement to hold 834 U.S. citizens, some of whom subsequently spent days in jail as a result. The ACLU says that under SB4, the state of Texas is placing the rights of its residents, including U.S. citizens, in extreme jeopardy. SB4 will go into effect on September 1, 2017. However, the ACLU is concerned that some law enforcement officers may begin to treat residents and travelers unfairly now. The organization advises anyone who believes their rights have been violated because of SB4 to contact the ACLU of Texas at 1-888-507-2970.
ACLU "Know Your Rights" materials are available in a variety of languages at www.aclu.org/know-your-rights.
[adrotate group="1"]