10 consejos para vencer el frío, reducir los costos de energía y mantenerse caliente
El clima juega el papel más importante en la cantidad de energía que usan los clientes y en cómo afecta su factura eléctrica. Los clientes suelen ver sus facturas más altas después de los meses más calurosos y fríos.
Como es típico en esta época del año, a partir del domingo, las bajas temperaturas en el noroeste de Florida comenzarán a disminuir hasta los 30 y hasta los 20 en algunas áreas, y la temperatura promedio continuará bajando durante enero y febrero. Ahora es el momento de tomar medidas para ayudar a ahorrar dinero en su factura de energía de Gulf Power y mantenerse caliente durante los períodos más fríos.
Vea estos 10 consejos sobre clima frío de los expertos en energía de Gulf Power:
Ajuste su termostato a una temperatura constante. Casi la mitad de la energía en su hogar se destina a calefacción y refrigeración. En el invierno, ajústelo a 68 grados y déjelo. Por cada grado por encima de 68 que configure su termostato, pagará un 10 por ciento más en costos de calefacción.
Localice y selle las fugas para que el aire frío no pueda colarse a través de puertas, paredes o un ático mal aislado. Asegúrese de que no haya pequeños orificios en sus conductos que podrían hacer que su calentador trabaje más. Instale burletes o masilla alrededor de puertas y ventanas. Aumente el aislamiento del ático para ahorrar un 30 por ciento en los costos de refrigeración y calefacción.
Invierta la configuración de su ventilador de techo para empujar el aire más caliente hacia el nivel del piso.
Mantenga su sistema de calefacción para que funcione más eficientemente. Cambie o limpie su filtro de aire mensualmente ya que los filtros sucios restringen el flujo de aire y reducen la eficiencia. Vea los incentivos disponibles en la Heating and Cooling page.
Reduzca sus costos de iluminación apagando las luces que no están en uso. Utilice luces fluorescentes o LEDs. Duran 10 veces más que las bombillas incandescentes. Y, consumen tan poco como el 20 por ciento de la energía por la misma cantidad de luz.
Use una manta eléctrica o un colchón con calefacción. Estos son más económicos que calentar toda la casa. Para evitar un riesgo de incendio, evite usar los que tengan más de 10 años. No pases los cables debajo de tu colchón. Más consejos de seguridad.
Use el sol para calentar su hogar abriendo cortinas y persianas en el lado soleado de su casa. Ciérralos en el lado sombreado de tu casa y por la noche.
Administre su energía y controle sus ahorros a través deEnergy Select, un programa reconocido a nivel nacional que pone el poder de los ahorros en sus manos. Al combinar un precio variable único, una programación en línea y un termostato inteligente, Energy Select permite a los clientes tomar el control de ahorrar dinero y energía. Este programa de ahorro de energía presenta un precio de energía más bajo el 87 por ciento del tiempo, la conveniencia de controlar su comodidad y ahorro, y la instalación GRATUITA.
Obtenga un chequeo de energía gratis, una de las maneras más fáciles de identificar medidas para conservar energía. Puede acceder a un chequeo en línea (free online checkup) gratuito desde cualquier lugar y en cualquier momento en una computadora portátil, tableta o dispositivo móvil, o puede programar un chequeo de energía en el hogar (energy checkup). El chequeo proporciona un informe personalizado para usted, basado en el uso real de energía de su hogar y al que puede acceder cuando quiera buscar formas de ahorrar dinero y energía.
Use calentadores eléctricos portátiles solo en áreas pequeñas. Compre modelos más nuevos que estén controlados termostáticamente y lleve la etiqueta UL (UL label).
¿Luchando para pagar facturas más altas?
Para aquellos que pueden tener dificultades para pagar su factura, el Salvation Army tiene un programa llamado Project SHARE. El Project SHARE proporciona asistencia de emergencia a nuestros vecinos que necesitan ayuda con las facturas de energía, reparaciones de equipos de calefacción y aire acondicionado y otras necesidades relacionadas con la energía. El programa ayuda a los ancianos, los discapacitados, los enfermos y otras personas que están experimentando dificultades financieras. Los clientes de Gulf Power pueden hacer donaciones a Project SHARE agregando una donación a su factura de energía.
10 tips to beat the cold snaps, lower energy costs and stay warm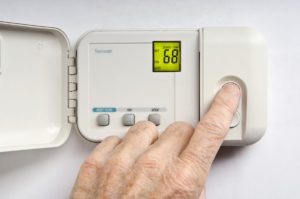 Weather plays the biggest role in the amount of energy customers use and how it impacts their power bill. Customers typically see their highest bills after the hottest and coldest months.
As is typical for this time of the year, starting Sunday, low temperatures in Northwest Florida will begin dropping into the 30s and even the 20s in some areas, with the average temperature continuing to drop throughout January and February. Now is the time to take steps to help save money on your Gulf Power energy bill and stay warm during the coldest spells.
Check out these 10 cold weather tips from Gulf Power's energy experts:
Set your thermostat at a constant temperature. Almost half of the energy in your home goes to heating and cooling. In the winter, set it at 68 degrees and leave it. For every degree above 68 that you set your thermostat, you'll pay 10 percent more in heating costs.
Find and seal leaks so cold air can't sneak in through doors, walls or a poorly insulated attic. Make sure there are no tiny holes in your ducts that could cause your heater to work harder. Install weather stripping or caulking around doors and windows. Increase attic insulation to save 30 percent on cooling and heating costs.
Reverse the setting on your ceiling fan to push warmer air down to the floor level.
Maintain your heating system so it runs more efficiently. Change or clean your air filter monthly since dirty filters restrict airflow and reduce efficiency. Check out available incentives from Gulf Power's Heating and Cooling page.
Lower your lighting costs by turning off lights that aren't in use. Use fluorescent lighting or LEDs. They last 10 times longer than incandescent bulbs. And, they consume as little as 20 percent of the energy for the same amount of light.
Use an electric blanket or heated mattress cover. These are more economical than heating the entire house. To prevent a fire hazard, avoid using ones that are older than 10 years. Don't run cords under your mattress.
Use the sun to heat your home by opening draperies and blinds on the sunny side of your house. Close them on the shaded side of your house and at night.
Manage your energy and control your savings through Energy Select, a nationally recognized program that puts the power of savings in your hands. By combining a unique variable price, an online programming and smart thermostat, Energy Select allows customers to take control of saving money and energy. This energy-saving program features a lower energy price 87 percent of the time, the convenience to control your comfort and savings, and FREE installation.
Get a free Energy Checkup, one of the easiest ways you can identify measures to conserve energy. You can access a free online checkup from anywhere at any time on a laptop, tablet or mobile device, or you can schedule an in-home energy checkup. The checkup provides a report that's personalized for you, based on your home's actual energy use and can be accessed whenever you want to look for ways to save money and energy.
Use portable electric heaters only in small areas. Buy newer models that are thermostatically controlled and carry the UL label.
Struggling to pay higher bills? 
For those who may struggle to pay their bill, the Salvation Army has a program called Project SHARE. Project SHARE provides emergency assistance to our neighbors who need help with energy bills, repairs to heating and air-conditioning equipment and other energy-related needs. The program assists the elderly, the disabled, the sick and others who are experiencing financial hardship. Gulf Power customers can make donations to Project SHARE by adding a donation to their power bill. 
Here is a full list of where to get help paying your power bill:
Chipley 
Love in Action, (850) 638-2706
Jackson County Senior Citizen, (850)263-4650
Salvation Army, (850)638-7102
Panama City 
Catholic Charities, (850)763-0475
Council On Aging, (850)769-3468
United Way, (850)785-7521 or 215-6611
Family Services, (850)785-1721
Salvation Army, (850)769-5259
Tri County, 942 Jenks Ave., (850)215-0173
Beach Care Services — Panama City Beach Residents only, (850)235-3002
Central District 
DeFuniak Springs 
Caring & Sharing, (850)892-7656
Tri-CountyCouncil Assistance, (850)892-3615
Fort Walton Beach 
Striving for Perfection Ministries, 312 Pelham Rd. Open Tuesday – Friday 10 a.m. to 4 p.m. (850)862-3899
United Way, 112 Tupelo Ave., (850)243-0315
Salvation Army, 425 Mary Esther-cutoff, (850)243-4531
Catholic Social Services, 11 1st St. (850)244-2825
Crestview 
Sharing & Caring, (850)682-1134
Salvation Army, (850)243-4531
Tri-County, (850)306-1134
Niceville 
Okaloosa County Council on Aging, (850)833-9165
Salvation Army, (850)243-4531
Catholic Social Services, (850)244-2825
Sharing & Caring, (850)678-8459
Pensacola 
United Way referral line, call 2-1-1 from any phone
United Ministries (only provides assistance to families w/children) 257 E Lee St., Pensacola, (850)433-2333
Catholic Social Services, 222 E. Government St., Pensacola, (850)436-6425
Community Action Program (Tuesdays 8:15-9:15 am), 1308 W Garden St., Pensacola, (850)607-2088  Salvation Army, 1501 North Q St., Pensacola, (850)432-1501
First Baptist Church, (850)438-8907 Olive Baptist Church, (850)473-4466
Milton 
Interfaith Ministries — Santa Rosa County residents, Gulf Breeze, Navarre, Milton, (850)934-8385
We Care Ministries (United Methodist Church — Santa Rosa County residents, Navarre) (850)939-1005
Family Resource Center, (850)626-2054
Salvation Army, Santa Rosa County, (850)623-4099
Tri County Community Council, 6607 Elva St., (850)981-0036
[adrotate group="1"]