UWF está fabricando y distribuyendo protectores faciales impresos en 3D para trabajadores de la salud
Como la escasez de protectores faciales completos para los trabajadores de la salud se apodera de la nación en la batalla contra COVID-19, la Universidad de West Florida respondió pidiendo a una de las organizaciones de apoyo directo de la universidad que fabriquen, administren y distribuyan suministros de protectores faciales completos impresos en 3D en su laboratorio de fabricación aditiva Sea3D en el centro de Pensacola.
El equipo de producción está imprimiendo componentes para los protectores faciales a pedido para su distribución después de un breve proceso de solicitud y distribución desde el laboratorio Sea3D ubicado dentro del Museo de Comercio de UWF Historic Trust en el centro de Pensacola. La instalación ha distribuido más de 1,000 protectores faciales al momento de esta publicación. UWF Business Enterprises, Inc., una organización de apoyo directo de la universidad, patrocina la iniciativa y gestiona la fabricación y distribución.
Los proveedores de atención médica pueden solicitar los kits de protección completando un formulario en línea y cumpliendo las condiciones de aceptación. Se ha dado prioridad a los proveedores locales de atención médica sin fines de lucro que atienden a poblaciones en riesgo, incluidos los ancianos, personas con bajos ingresos y las personas sin hogar.
"Esta es una oportunidad para que los estudiantes y profesores de la UWF colaboren con los fabricantes y utilicen sus habilidades en este momento de necesidad," dijo Nicole Gislason, vicepresidenta asistente interina del Centro Haas de la UWF. "Enseñamos a nuestros estudiantes que los problemas del mundo real pueden transformarse en soluciones creativas a través de la investigación, la invención y el descubrimiento. No hay mejor momento que el presente para que pongan esa enseñanza en práctica."
El equipo de producción está formado por innovadores de múltiples departamentos de la UWF, incluidos enfermería, ingeniería, arte y negocios. Los estudiantes y el profesorado de la UWF trabajarán junto a profesionales de hospitales regionales, la División de Manejo de Emergencias del Condado de Escambia, Jupiter Bach, GE Renewable Energy y Alto Products Corp.
"Hay miles de inventores y fabricantes en todo el mundo que comparten generosamente sus ideas para abordar la pandemia," dijo Thomas Asmuth, profesor asociado del departamento de arte de la UWF y diseñador del equipo de producción.
UWF manufacturing, distributing 3D-printed face shields for healthcare workers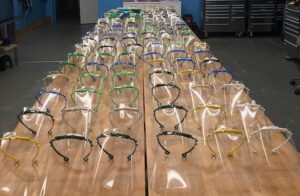 As a shortage of full face shields for healthcare workers grips the nation in the battle against COVID-19, the University of West Florida responded by asking one of the University's direct support organizations to manufacture, manage and distribute 3D-printed full face shield supplies at its Sea3D Additive Manufacturing Laboratory in downtown Pensacola.
The production team is printing components for the shields on-demand for distribution after a short application process and distributing from the Sea3D lab located inside the UWF Historic Trust's Museum of Commerce in downtown Pensacola. The facility has distributed over 1,000 face shields as of writing. UWF Business Enterprises, Inc., a direct support organization of the University, is sponsoring the initiative and managing the manufacturing and distribution.
Healthcare providers may request the shield kits by completing an online form and satisfying the conditions of acceptance. Priority has be given to local nonprofit healthcare providers serving at-risk populations including the elderly, low income and the homeless.
"This is an opportunity for UWF students and faculty to collaborate with manufacturers and utilize their skills in this time of need," said Nicole Gislason, interim assistant vice president of the UWF Haas Center. "We teach our students that real-world problems can be transformed into creative solutions through research, invention and discovery. There is no better time than the present for them to put that teaching to practical use."
The production team consists of innovators from multiple departments at UWF, including nursing, engineering, art and business. UWF students and faculty will work alongside professionals from regional hospitals, the Escambia County Division of Emergency Management, Jupiter Bach, GE Renewable Energy and Alto Products Corp.
"There are thousands of inventors and makers around the globe generously sharing their ideas to address the pandemic," said Thomas Asmuth, associate professor of the UWF Department of Art and a designer for the production team.
[adrotate group="1"]