Un pedido de ayuda para Isela
Amigos de la comunidad del noroeste de Florida están trabajando juntos para ayudar a Isela Rebollar Martínez y su familia a cubrir los gastos médicos. Amigos de la familia dicen que la mujer de 24 años está en una unidad de cuidados intensivos luchando contra un tumor canceroso en su cerebro.
A Martínez se le describe como una persona generalmente enérgica y compasiva. Sin embargo, de repente se enfermó en octubre, paralizándola parcialmente y luego su salud se deterioró rápidamente.
Una organización de Latinos de la Iglesia Católica St. Sylvester en Gulf Breeze llamada Emaus abrió una cuenta de GoFundMe con el objetivo de recaudar $ 30,000 para los gastos médicos de Martínez. Están casi a la mitad de su objetivo.
Según la página de GoFundMe, Martínez está conectada a un ventilador y sedada para mantener la calma debido a las convulsiones que está teniendo. Los doctores confirmaron que Martínez tiene un tumor canceroso maligno llamado glioblastoma multiforme y están considerando transferirla a un hospital en Texas.
Las donaciones se pueden hacer en https://gofund.me/eb75dd58.
A plea for help for Isela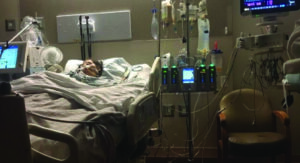 Friends in the Northwest Florida community are working together to help Isela Rebollar Martinez and her family to help cover medical expenses. Friends of the family say the 24-year-old woman is in an intensive care unit battling a cancerous tumor in her brain.
Martinez is described as a usually energetic and compassionate. However, she suddenly became ill in October, partially paralyzing her then her health declined rapidly.
A church organization of Latinos at St. Sylvester Catholic Church in Gulf Breeze called Emaus has opened a GoFundMe account with a goal to raise $30,000 for Martinez's medical expenses. They are nearly halfway to their goal.
According to the GoFundMe page, Martinez is on a ventilator and sedated to keep her calm due to seizures she is having. Doctors have confirmed that Martinez has a malignant cancerous tumor called glioblastoma multiforme and are considering transferring her to a hospital in Texas.
Donations can be made at https://gofund.me/eb75dd58.
[adrotate group="1"]