Un nuevo letrero que lleva hacia los tacos
PENSACOLA, Fla. – La Highway 29 en Pensacola puede parecer un poco más brillante desde que Taco Rock instaló su nuevo letrero la semana pasada.
La taquería, ubicada en el 5454 Pensacola Blvd (Hwy 29), no solo es conocida por sus tacos y tamales mexicanos deliciosamente auténticos, sino también como la primera taquería en Pensacola.
Con sus paredes interiores cubiertas con recuerdos del rock and roll, Taco Rock se ha convertido en un punto de referencia en el centro de Pensacola. Clientes leales han visto cómo el negocio popular, propiedad de la familia Ramírez, resistió la prueba del tiempo … y los huracanes.
Odette Ramírez es la segunda generación de Taco Rock para administrar el favorito local. Ella ha visto muchos cambios a lo largo de los años y espera ver la taquería durante muchos años más.
Ramírez dijo recientemente en una publicación de Facebook, "Este mes celebraremos 23 años. Recuerdo que durante mucho tiempo [nosotros] fuimos la única taquería en la ciudad. Aprecio a esos clientes leales."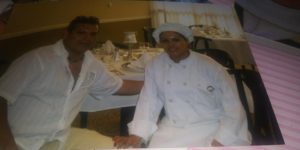 Agregó que espera que su nuevo letrero se salve de los posibles huracanes.
La tienda de tacos sobrevivió a los huracanes Iván y Katrina, pero no sin daño. Ramírez compartió fotos del patio del restaurante hecho pedazos en su página de Facebook junto con una foto de ella con su padre, Oscar Ramírez, quien comenzó todo en 1996.
Taco Rock se ha convertido desde entonces en un punto de referencia para muchos locales. Algunos podrían decir que ni siquiera necesita saber la dirección exacta para encontrarla. El periódico La Costa Latina recibió una carta en 2011 cuando la publicación arrendó el edificio directamente a través de la calle de la taquería dirigida a "En frente del restaurante Taco Rock."
La taquería popular se ha expandido a lo largo de los años experimentando con ubicaciones cercanas a la base naval y en el mercado de pulgas. Esos sitios ya no están abiertos, pero la ubicación original en Pensacola Blvd (Hwy 29) permanece abierta junto con una segunda ubicación en Gulf Breeze administrada por la hermana, Byanka Ramírez, y su esposo.
Ambos lugares están abiertos todos los días excepto los domingos.
New Sign Leads to Tacos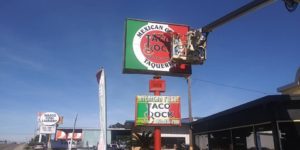 PENSACOLA, Fla. – Highway 29 in Pensacola might seem a little brighter since Taco Rock installed their new sign last week.
The taqueria, located at 5454 Pensacola Blvd (Hwy 29), is not only known for its deliciously authentic Mexican tacos and tamales, but as the first taqueria in Pensacola.
With it's interior walls covered with rock and roll memorabilia, Taco Rock has become a landmark in the middle of Pensacola. Loyal customers have seen the popular business, owned by the Ramirez Family, withstand the test of time…and hurricanes.
Odette Ramirez is Taco Rock's second generation to manage the local favorite. She has seen many changes over the years and hopes to see the taqueria through many more years.
Ramirez said recently in a Facebook post, "This month we will be celebrating 23 years. I remember for a long time [we] were the only Taqueria in town. I appreciate those loyal customers."
She added she hopes their new sign will be spared by any potential hurricanes.
The taco shop survived Hurricanes Ivan and Katrina, but not without damage. Ramirez shared photos of the restaurant's patio torn to pieces on their Facebook page along with a photo of her with her dad, Oscar Ramirez who started it all in 1996.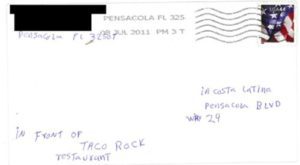 Taco Rock has since become a point of reference for many locals. Some might say you don't even need to know the exact address to find it. La Costa Latina Newspaper received a letter in 2011 when the publication leased the building directly across the street from the taqueria addressed to "In front of Taco Rock restaurant."
The popular taqueria has expanded over the years experimenting with locations near the Navy base and at the flea market. Those sites are no longer open, but the original location on Pensacola Blvd (Hwy 29) remains open along with a second location in Gulf Breeze managed by Ramirez's sister Byanka and her husband.
Both locations are open every day except Sundays.
[adrotate group="1"]