U-Haul trae empleos, 700 cuartos de almacenamiento para almacenar cerca de Pensacola
MILTON, Fla. — U-Haul® pronto presentará una impresionante instalación minorista y de autoalmacenamiento en Milton gracias a la reciente adquisición de una antigua propiedad de Kmart® en 6050 Hwy. 90
U-Haul Moving & Storage de Milton, ubicado a unas 20 millas al noreste de Pensacola, actualmente opera desde una sala de exposición temporal y ofrece el intercambio de camiones y remolques, equipos de remolque, ventas de enganches y suministros para mudanzas. U-Haul adquirió el edificio de 101,354 pies cuadrados el 4 de junio.
La reutilización adaptativa de la propiedad generará alrededor de 700 unidades de autoalmacenamiento en interiores, brindando a los clientes acceso a habitaciones climatizadas con características de seguridad de alta tecnología a precios asequibles. Las renovaciones están programadas para finalizar en el verano de 2020.
"U-Haul proporcionará una instalación de almacenamiento y mudanzas de vanguardia para nuestros vecinos del noroeste de la Florida," dijo Chad Rome, U-Haul Company of South Alabama. "Este sitio era atractivo porque está justo al lado de la autopista 90, que conecta Milton con gran parte de la Florida y el resto de los EE UU Es muy conveniente para nuestros transportistas DIY (hazlo tu mismo)."
Roma espera emplear un personal de 15 o más miembros del equipo una vez que la tienda esté en pleno funcionamiento. U-Haul buscará contratar localmente para promover el crecimiento del empleo en Milton.
Comuníquese con U-Haul Moving & Storage de Milton al (850) 564-7351 o visite para visitar a la gerente general Gina Rhoda y su equipo. El horario de atención es de 7 a.m. a 4 p.m.  lunes-sabado. Reserve el equipo en uhaul.com o comuníquese con "Reservations" (Reservas) al 1-800-GO-UHAUL.
U-Haul Bringing Jobs, 700 Storage Rooms to Store near Pensacola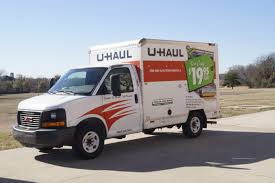 MILTON, Fla. — U-Haul® will soon present an impressive retail and self-storage facility in Milton thanks to the recent acquisition of a former Kmart® property at 6050 Hwy. 90.
U-Haul Moving & Storage of Milton, located about 20 miles northeast of Pensacola, is currently operating out of a temporary showroom and offering truck and trailer sharing, towing equipment, hitch sales and moving supplies. U-Haul acquired the 101,354-square-foot building on June 4.
Adaptive reuse of the property will render about 700 indoor self-storage units, giving customers access to climate-controlled rooms with high-tech security features at affordable price points. Renovations are scheduled to be finished by summer 2020.
"U-Haul will be providing a state-of-the-art moving and self-storage facility for our neighbors in the Florida Panhandle," said Chad Rome,    "This site was attractive because it's just off Highway 90, which connects Milton to much of Florida and the rest of the U.S. It's very convenient for our DIY movers."
Rome expects to employ a staff of 15 or more Team Members once the store is fully operational. U-Haul will look to hire locally to promote job growth within Milton.
Contact U-Haul Moving & Storage of Milton at (850) 564-7351 or stop by to visit general manager Gina Rhoda and her team. Hours of operation are 7 a.m.-4 p.m. Monday-Saturday. Reserve equipment at uhaul.com or contact Reservations at 1-800-GO-UHAUL.
[adrotate group="1"]