Tres incendios domésticos en el condado de Escambia
CONDADO DE ESCAMBIA, Florida – Un incendio ocurrió en la cuadra 5800 de Tripp Trace el 11 de diciembre. La oficina de Comunicaciones de Emergencia del Condado de Escambia recibió una llamada a las 6:31 p.m. sobre un incendio en una estructura residencial. Las unidades de bomberos del condado de Escambia llegaron al lugar y controlaron el fuego a las 6:48 p.m. No había ocupantes en la casa en el momento del incendio, sin embargo, los residentes serán desplazados hasta que se puedan completar las reparaciones. Hubo graves daños por incendio en la cocina y daños por humo en toda la casa. ECFR llevó a cabo la investigación de causa y origen y determinó que el incendio comenzó debido a una falla eléctrica de un electrodoméstico ubicado en la cocina. La asistencia fue proporcionada por el Departamento de Servicios de Bomberos de Defensa.
Dos incendios adicionales ocurrieron en la cuadra 1700 de Dogwood Place Apartments el domingo 13 de diciembre. La oficina de comunicaciones de emergencia del condado de Escambia recibieron múltiples llamadas a la 1:55 p.m. con respecto a un incendio en una vivienda multifamiliar. A su llegada, las unidades ECFR vieron que dos de las cuatro unidades en el complejo estaban encendidas en llamas. El incidente fue controlado a las 2:33 p.m. No habían ocupantes en las casas en el momento del incendio; sin embargo, la Cruz Roja Americana está ayudando a dos adultos. Un gato mascota murió en el fuego. Los dos apartamentos parecen ser una pérdida total y no había alarmas de humo en ellos. El fuego parece haber sido iniciado por una vela encendida desatendida.
Estos incendios marcaron el segundo, tercer y cuarto foco rojo en la campaña de seguridad contra incendios "Keep the Wreath Green". Durante la campaña de un mes, se exhiben coronas de cinco pies en 21 estaciones de bomberos de la ciudad y el condado y en otros lugares. Cada vez que los bomberos responden a un incendio residencial con daños, una bombilla de luz verde se reemplaza por una roja para recordar a los ciudadanos los peligros que representan los incendios en hogares residenciales.
Three home fires in Escambia County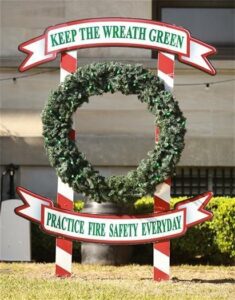 ESCAMBIA COUNTY, Fla. – A fire occurred in the 5800 block of Tripp Trace on Dec. 11. Escambia County Emergency Communications received a call at 6:31 p.m. about a residential structure fire. Escambia County Fire Rescue units arrived on scene and brought the fire under control by 6:48 p.m. There were no occupants home at the time of the fire, however residents will be displaced until repairs can be completed. There was heavy fire damage to the kitchen and smoke damage throughout the home. ECFR conducted the cause and origin investigation and determined the fire started due to an electrical failure from an appliance located in the kitchen. Assistance was provided by the Department of Defense Fire Services.
Two additional fires occurred in the 1700 block of Dogwood Place Apartments on Sunday, Dec. 13. Escambia County Emergency Communications received multiple calls at 1:55 p.m. regarding a multi-family dwelling fire. Upon arrival, ECFR units saw a working fire from two of the four units in the complex. The incident was brought under control by 2:33 p.m. There were no occupants home at the time of the fire; however, the American Red Cross is assisting two adults. A pet cat was killed in the fire. The two apartments appear to be a total loss, and no smoke alarms were present. The fire appears to have been started by an unattended burning candle.
These fires marked the second, third and fourth red bulb in the "Keep the Wreath Green" fire safety campaign. During the month-long campaign, five-foot wreaths are on display at 21 city and county fire stations and other locations. Each time firefighters respond to a residential fire with damage, a green light bulb is replaced with a red one to remind citizens of the dangers posed by fires in residential home.
[adrotate group="1"]