Solicitudes de vendedores aceptadas para el programa Pensacola Beach Food Truck
PENSACOLA BEACH, Fla. – El Santa Rosa Island Authority (SRIA) anunció un nuevo programa de camiones de comida que llegará a Pensacola Beach a fines del verano, y está alentando a los vendedores de camiones de comida del área a que soliciten participar. Pensacola Beach Food Trucks estará estacionado en los lotes Park East y Park West, durante cuatro fines de semana desde mediados de septiembre hasta el 1 de noviembre.
Las áreas están disponibles los fines de semana de 9 a.m. a 7 p.m. en las siguientes fechas:
12 – 13 de septiembre
19 – 20 de septiembre
24 – 25 de octubre
31 de octubre – 1 de noviembre
El SRIA asignará los lugares de los proveedores a los solicitantes calificados por orden de llegada, así como la integridad de la solicitud y los documentos requeridos. No habrá más de 10 camiones por fin de semana, cinco camiones en cada Park East y Park West, según lo asignado por el SRIA.
El SRIA designará un espacio de 24 x 30 pies para cada camión de comida o remolque en Park East o Park West. El personal estará en el sitio para ayudar a guiar a los vendedores a sus espacios apropiados. Los vendedores deberán suministrar su propia fuente de energía. Para obtener más información, requisitos y regulaciones, comuníquese con Kara Gauntt al 850-797-2957 o por correo electrónico a kara_gauntt@sria-fla.com.
Las aplicaciones están disponibles para descargar en línea en SRIA-FLA.com. Las solicitudes se aceptan en la oficina de Santa Rosa Island Authority ubicada en 1 Dr. Via De Luna en Pensacola Beach. La fecha límite para presentar la solicitud es el 21 de agosto de 2020.
Vendor applications accepted for Pensacola Beach Food Truck Program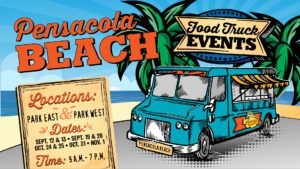 PENSACOLA BEACH, Fla. –The Santa Rosa Island Authority (SRIA) announced a new food truck program coming to Pensacola Beach in late summer, and is encouraging area food truck vendors to apply to participate. Pensacola Beach Food Trucks will be parked at the Park East and Park West lots, for four weekends from mid-September through November 1.
Weekend spots are available from 9 a.m. to 7 p.m. on the following dates:
September 12 – 13
September 19 – 20
October 24 – 25
October 31 – November 1
Vendor spots will be assigned to qualifying applicants by the SRIA on a first-come, first-served basis, as well as completeness of application and required documents. There will be no more than 10 trucks per weekend, five trucks at each Park East and Park West, as assigned by the SRIA.
The SRIA will designate a 24 x 30-foot space for each food truck or trailer at Park East or Park West. Staff will be on site to help guide vendors to their appropriate spaces. Vendors will need to supply their own power source. For more information, requirements and regulations, please contact Kara Gauntt at 850-797-2957 or by email at kara_gauntt@sria-fla.com.
Applications are available to download online at SRIA-FLA.com. Applications are accepted at the Santa Rosa Island Authority office located a 1 Via De Luna Dr. on Pensacola Beach. The deadline to apply is August 21, 2020.
[adrotate group="1"]