Senior Bowl Caravan visitará Pensacola el 25 de enero
PENSACOLA, Fla. – La Caravana del Reese's Senior Bowl en 2019 visitará Pensacola el viernes, el 25 de enero, desde las 10 a 11 a.m., lo que traerá a los mejores prospectos de la NFL de todo el país al Estadio Blue Wahoos. Durante una semana ocupada de actividades para los jugadores antes de la principal exhibición de pre-selección de la nación, seis jugadores se han puesto a disposición para visitar Pensacola, donde dirigirán simulacros para niños y firmarán autógrafos. La admisión al evento será gratuita para el público y las puertas se abrirán a las 9:30 a.m.
Desde su inicio en 1950, el Senior Bowl ha presentado listas llenas de futuras estrellas de la NFL que incluyen leyendas como Joe Namath, Walter Payton, Dan Marino, Brett Favre, Bo Jackson y el copropietario de Blue Wahoos Derrick Brooks. Según el Senior Bowl, más de 500 participantes pasados ​​están actualmente activos en la NFL, lo que representa más del 30% de todos los jugadores de la liga, y 21 jugadores que jugaron en el Pro Bowl de la NFL 2018 eran veteranos del Senior Bowl.
Pensacola tiene una sólida historia con el juego, ya que varios jugadores locales de fútbol han participado en el juego antes de comenzar una carrera profesional. Derrick Brooks fue el Jugador Más Valioso del Bowl en 1995 y fue incluido en el Senior Bowl Hall of Fame en 2004. Alfred Morris de Pine Forest High School jugó en el Bowl 2012 antes de ser reclutado por los Washington Redskins de la Florida Atlantic University. El dos veces Pro Bowler actualmente juega para los 49ers de San Francisco. La fuerte actuación de Damarious Randall en el Senior Bowl de 2015 lo impulsó a la primera ronda de la selección de la NFL, donde fue seleccionado en el puesto 30 por los Green Bay Packers. Randall se graduó de Pensacola High School y actualmente juega para los Cleveland Browns. Jeremy Reaves, producto del Catholic High School de Pensacola, fue protagonista del 2018 Senior Bowl, quien recientemente completó su temporada de novato en la NFL con los Washington Redskins.
El Reece's Senior Bowl 2019 se llevará a cabo en el estadio Ladd-Peebles en Mobile, Alabama el sábado 26 de enero a la 1:30 p.m. Más información y entradas para el juego están disponibles en SeniorBowl.com.
Senior Bowl Caravan To Visit Pensacola On January 25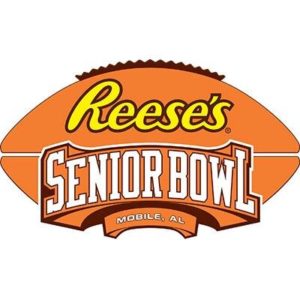 PENSACOLA, Fla. – The 2019 Reese's Senior Bowl Caravan will visit Pensacola on Friday, January 25 from 10 to 11 a.m., bringing top NFL draft prospects from across the nation to Blue Wahoos Stadium. During a busy week of activities for the players prior to the nation's top pre-draft showcase, six players have been made available to visit Pensacola where they will lead drills for children and sign autographs. Admission to the event will be free to the public and gates will open at 9:30 a.m.
Since its inception in 1950, the Senior Bowl has featured rosters filled with future NFL stars including legends like Joe Namath, Walter Payton, Dan Marino, Brett Favre, Bo Jackson, and Blue Wahoos co-owner Derrick Brooks. According to the Senior Bowl, over 500 past participants are currently active in the NFL, comprising over 30% of all players in the league, and 21 players who played in the 2018 NFL Pro Bowl were veterans of the Senior Bowl.
Pensacola has strong history with the game, as multiple local football players have participated in the game before beginning professional careers. Derrick Brooks was the Bowl's MVP in 1995 and was inducted into the Senior Bowl Hall of Fame in 2004. Pine Forest High School's Alfred Morris played in the 2012 Bowl before being drafted by the Washington Redskins from Florida Atlantic University. The two-time Pro Bowler currently plays for the San Francisco 49ers. Damarious Randall's strong showing in the 2015 Senior Bowl propelled him into the first round of the NFL Draft, where he was selected 30th overall by the Green Bay Packers. Randall is a graduate of Pensacola High School and currently plays for the Cleveland Browns. The 2018 Senior Bowl featured Pensacola Catholic High School product Jeremy Reaves, who recently completed his rookie season in the NFL with the Washington Redskins.
The 2019 Reese's Senior Bowl will be held at Ladd-Peebles Stadium in Mobile, AL at 1:30 PM on Saturday, January 26. More information and tickets to the game are available at SeniorBowl.com.  
[adrotate group="1"]