Plaza Sesamo en Vivo! ¡Vamos de Fiesta! está llegando a Pensacola el 30 de octubre
PENSACOLA, Fla. – ¡Participa en la celebración callejera más soleada y divertida de Plaza Sesamo en ViVo! ¡Vamos de Fiesta! cuando se trata de Pensacola Bay Center en Pensacola, 30 de octubre! La producción inaugural bajo la nueva asociación de Feld Entertainment con la organización educativa sin fines de lucro, Sesame Workshop presenta a los amigos favoritos de Plaza Sesamo, Elmo, Abby Cadabby, Big Bird y más en una nueva aventura sensorial en vivo en el escenario.
Desde el momento en que se levanta el telón, tanto los padres como los niños estarán de pie bailando junto a una banda sonora infundida con pop con nuevos amigos de Plaza Sesamo y los presentadores en vivo Casey y Caleb. Planear una fiesta no es fácil cuando todos tienen una idea diferente de diversión, pero con un poco de ayuda de la audiencia, se convierte en el reflejo final de lo que puede lograr la amistad más el trabajo en equipo. Los invitados a la fiesta cantarán canciones nuevas y familiares, como "I Love Trash" y "C is for Cookie", con Oscar the Grouch y Cookie Monster; baila al ritmo de Elmo; explorar un país de las maravillas invernal cuando la magia de Abby Cadabby sale mal; vuela con Big Bird para conocer algunos de sus fabulosos amigos emplumados; y descubre nuevas culturas en una clase interactiva de español con Rosita.
Se ofrecerá una experiencia previa al espectáculo única, cercana y personal por un cargo adicional antes de las presentaciones seleccionadas, lo que les permite a las familias la oportunidad de recorrer el vecindario en el escenario de sus amigos peludos favoritos antes de llegar al espectáculo principal. . La diversión no termina ahí. Una variedad de actividades interactivas les da a los niños la oportunidad de crear, descubrir y aprender mientras ayudan a decorar para la próxima fiesta.
Precios de las entradas: las entradas comienzan en $18.00
Horarios del show: miércoles 30 de octubre 10:30 AM | 5:30 PM
Para descubrir más sobre Plaza Sesamo  !, visita SesameStreetLive.com. Manténgase actualizado sobre los últimos desarrollos a través de las redes sociales:
Facebook: www.facebook.com/SesameStreetLive
Twitter: @SesameStLive # SesameStreetLive
Instagram: @SesameStreetLive
Sesame Street Live! Let's Party! is Coming to Pensacola, October 30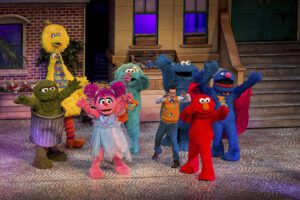 PENSACOLA, Fla. – Take part in the sunniest and funniest street celebration in Sesame Street Live! Let's Party! when it comes to Pensacola Bay Center in Pensacola, October 30! The inaugural production under Feld Entertainment's new partnership with the non-profit educational organization, Sesame Workshop features favorite Sesame Street pals Elmo, Abby Cadabby, Big Bird and more in a brand-new sensory adventure live on stage.
From the moment the curtain rises, parents and children alike will be on their feet dancing along to a pop-infused soundtrack with new Sesame Street friends and live emcees Casey and Caleb. Planning a party isn't easy when everybody has a different idea of fun, but with some help from the audience, it becomes the ultimate reflection of what friendship plus teamwork can accomplish. Party guests will sing along to new and familiar songs, like "I Love Trash" and "C is for Cookie," with Oscar the Grouch and Cookie Monster; dance to the beat with Elmo; explore a wintry wonderland when Abby Cadabby's magic goes awry; take flight with Big Bird to learn about some of his fabulous feathered friends; and discover new cultures in an interactive Spanish lesson with Rosita.
A unique, up-close-and-personal pre-show experience will be offered at an additional charge prior to select performances, allowing families the opportunity to tour the on-stage neighborhood of their favorite, furry friends before they arrive for the main show. The fun doesn't end there. A variety of interactive activities give children the chance to create, discover and learn as they help decorate for the upcoming party.
Ticket Prices: Tickets start at $18.00
Show Times: Wednesday, October 30 10:30 AM | 5:30 PM
To discover more about Sesame Street Live!, go to SesameStreetLive.com. Stay current on the latest developments through social media:
Facebook:  www.facebook.com/SesameStreetLive
Twitter: @SesameStLive # SesameStreetLive
Instagram: @SesameStreetLive
[adrotate group="1"]