Persecución Lleva a Dinero Falsificado

OKALOOSA COUNTY, Fla.—Un hombre de Pensacola se enfrenta a múltiples delitos en relación con una persecución en la Interestatal Diez en los condados de Okaloosa y Walton que terminó cuando el sospechoso chocó su vehículo en la rampa de salida de la carretera 331, el sábado 11 de junio.

Un sheriff del condado de Okaloosa estaba tratando de hacer una parada de tráfico a un hombre por exceso de velocidad en los carriles hacia el este de la Interestatal 10 cerca de la salida Holt cerca a la 1:30 p.m.

El conductor se negó a detenerse y se le podia ver lanzando diversos objetos por la ventana de su coche mientras seguía por la carretera en el condado de Walton a velocidades de hasta 100 millas por hora. Él hizo un giro brusco para conseguir salir de la carretera por  la salida de la autopista 331, pero cruzó la carretera y terminó en una zanja. Se fue a pié, pero fue capturado rápidamente por las autoridades de OCSO.

Los agentes buscaron los artículos que fueron arrojados por la ventana durante la persecución y encontraron varias piezas de moneda falsa.

El conductor fue acusado de eludir y huir, y conduciendo con una licencia suspendida 3ª o más delitos, destruir evidencias, y la posesión de dinero falso.

La Oficina del Sheriff del condado de Walton y el Defuniak Springs Police Department asistieron en el caso.
Speed Chase Leads to Counterfeit Money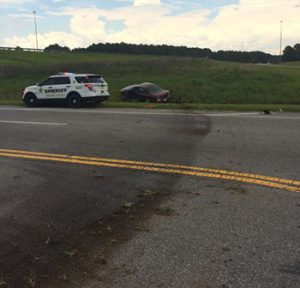 OKALOOSA COUNTY, Fla.—A Pensacola man faces multiple felonies in connection with a pursuit on Interstate Ten in Okaloosa and Walton Counties that ended when the suspect crashed his vehicle at the Highway 331 exit ramp on Saturday, June 11.

An Okaloosa County Sheriff's Office Deputy was attempting to make a traffic stop on a man speeding in the eastbound lanes of Interstate 10 near the Holt Exit around 1:30 p.m.

The driver refused to stop and could be seen throwing various items out of his car window as he continued down the highway into Walton County at speeds as high as 100 miles an hour. He made a sharp turn to get off the interstate at the Highway 331 exit but crossed over the highway and ended up in a ditch. He took off on foot but was quickly apprehended by OCSO deputies.

The officers searched for items that were tossed out the window during the pursuit and located various pieces of counterfeit money.

The driver was charged with fleeing and eluding, driving with a suspended license 3rd or more offense, destroying evidence, and possession of counterfeit money.

The Walton County Sheriff's Office and Defuniak Springs Police Department assisted in the case.
[adrotate group="1"]