Pensacola para Perú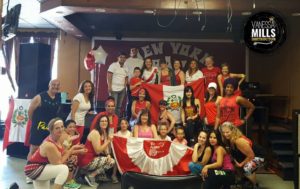 PENSACOLA, Fla.—Cerca de 35 personas llenaron la pista de baile en NY Billares para "Dance for Peru" el sábado 8 de abril. La reunión fue una sesión de baile Zumba para ayudar a las víctimas de las inundaciones en Perú.
"Recaudamos $370 que es 1.205 soles (moneda peruana)," dijo Vanessa Mills, organizadora del evento. Los fondos fueron enviados a la embajada peruana para su distribución a los esfuerzos de socorro.
Los instructores invitados de Zumba incluyeron a Elizabeth Stephens Willis, a Priscilla Leibeg, a Vanessa Moore, a Meg Snipes, a Briana Rapp Adams y a Evie Perrault. Una actuación especial del dúo de reggaeton local Jay "El Revelde" y Karina y la música DJ fue proporcionada por DJ Nazca y la ingeniería de sonido por Latin Flavor Entertainment también contribuyó a la causa.
Más de 90 personas han muerto en las inundaciones resultantes de la temporada de lluvias 2017 en Perú, que llevó 10 veces más lluvia de lo habitual. Más de 700.000 personas han perdido sus hogares de donde la gente fue rescatada de aguas fangosas. Se esperan más inundaciones debido a las lluvias causadas por El Niño según climatólogos peruanos.
Las donaciones se aceptan en línea en www.embassyofperu.org/ para ayudar a las personas afectadas por la inundación
Pensacola for Peru
PENSACOLA, Fla.—Nearly 35 people filled the dance floor at NY Billares to "Dance for Peru" on Saturday, April 8. The gathering was a Zumba dance session fundraiser to aid the victims of the floods in Peru.
"We raised $370 which is 1,205 soles (Peruvian currency)," said Vanessa Mills, organizer of the event. The funds were sent to the Peruvian embassy for distribution to relief efforts.
Zumba guest instructors included Elizabeth Stephens Willis, Priscilla Leibeg, Vanessa Moore, Meg Snipes, Briana Rapp Adams and Evie Perrault. A special performance by local reggaeton duo Jay "El Revelde" and Karina and DJ music was provided by DJ Nazca and sound engineering by Latin Flavor Entertainment also contributed to the cause.
More than 90 people have died in the floods resulting from Peru's 2017 rainy season, which delivered 10 times more rain than usual. More than 700,000 people have lost their homes where people were rescued from muddy water. More flooding is expected due to rainfall caused by El Niño according to Peruvian climatologists.
Donations are accepted online at www.embassyofperu.org/ to help the people affected by the flood.