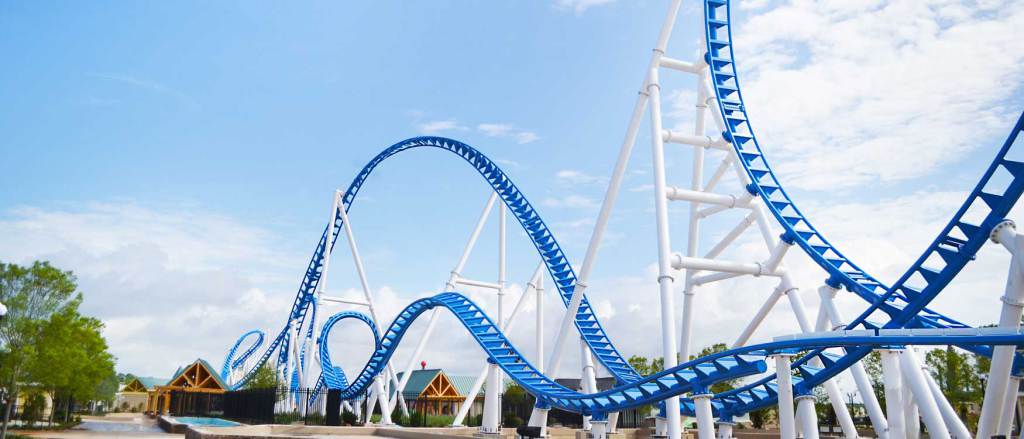 Nuevo parque de atracciones del Gulf Coast en camino para la apertura en julio
Por Derek Cossen, cortesía de Pulse Gulf Coast (English Version)
South Baldwin County, Ala.—Una adición tan esperada al Gulf Coast está a pocas semanas de su debut cuando los funcionarios se preparan para abrir las puertas en OWA, un nuevo "destino de diversión y entretenimiento" ubicado en South Baldwin County.
El proyecto OWA de 240 millones de dólares, que incluye el parque de diversiones, un hotel Marriott TownePlace Suites de 150 habitaciones, espacios para comercios y restaurantes y un lago artificial, está siendo desarrollado por la Poarch Band of Creek Indians.
"El parque de atracciones estará abierto a finales de julio," dijo Kristin Hellmich, directora de marketing de OWA. "No hemos publicado una fecha oficial, pero lo haremos en las próximas dos semanas."
Centrado en un lago de 14 acres, OWA contará con 21 paseos temáticos incluyendo la montaña rusa Rollin 'Thunder, así como un anfiteatro de 400 asientos y el primer puesto de Wahlburgers, la cadena de hamburguesas propiedad del actor Mark Wahlberg y sus dos hermanos. Otros inquilinos minoristas incluyen Sunglass World, Fairhope Soap Company, Alvin's Island, Hershey's Ice Cream Shop y Utopia.
Los funcionarios aún no han anunciado el precio de los boletos u otros detalles.
A sólo 9 millas de Gulf Shores y Orange Beach, OWA se encuentra cerca en la intersección de Foley Beach Express y County Road 20, adyacente al complejo de turismo deportivo de $40 millones de Ciudad de Foley, que cuenta con 16 campos al aire libre de vanguardia y un centro de eventos cubierto de 90.000 pies cuadrados.
Los planes futuros requieren la expansión del parque de diversiones y la adición de un parque acuático, junto con hoteles adicionales, un complejo de condominios, y un parque de recreo de nivel de RV. Cuando todas las fases estén completas, se espera que el costo total del desarrollo ascienda a $500 millones.
Los funcionarios esperan que el desarrollo completado de 520 acres para atraer a 1 millón de nuevos visitantes al sur de Alabama y generar, directa o indirectamente, hasta 3.500 puestos de trabajo. Se espera que el proyecto impulse la producción económica del condado de Baldwin en un estimado de $244 millones. Los funcionarios estatales y locales están proporcionando a OWA varios incentivos, incluyendo un crédito de inversión estatal que no exceda los $10 millones. OWA también recibirá una tarifa de dos centavos cobrada sobre todas las ventas dentro del distrito circundante hasta un total de $175 millones.
La única tribu federalmente reconocida en el estado de Alabama, los Poarch Band of Creek Indians son descendientes de un segmento de la original Creek Nation que una vez cubrió casi todo Alabama y Georgia. El Poarch Creek Tribal Government y sus empresas emplean a más de 3.500 residentes en Alabama, incluyendo en tres centros de Wind Creek Hospitality en Atmore, Wetumpka y Montgomery, Muskogee Technology, hoteles en Atmore y Huntsville y un hipódromo en Mobile.
[adrotate group="1"]