Niña de 10 años de edad herida fatalmente en accidente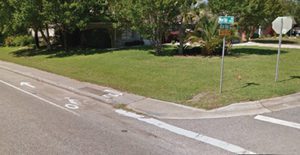 PENSACOLA, Fla.—Una niña de 10 años de edad de Pensacola fue atropellada por un automóvil mientras manejaba su bicicleta el jueves, 18 de mayo, del 2017.
Un oficial de la  Florida Highway Patrol confirmó el jueves por la tarde que Delilgha Rosa-Clark murió por sus heridas.
Rosa-Clark fue trasladada por aire al hospital del Sacred Heart en condiciones críticas luego de que fue atropellada por un Ford Edge a las 7:20 a.m. en el área de Merlin Road y Oak View Drive cerca de la Hellen Caro Elementary School.
Rosa-Clark estaba montando su bicicleta dentro del carril de bicicletas cuando Wilder supuestamente no pudo ver a la niña y no observó el derecho de paso, según el comunicado.
Un comunicado de prensa de la Florida Highway Patrol identificó al conductor del coche como un hombre de 47 años de Pensacola.
Los cargos estan pendientes en el caso.
10-year-old fatally injured in crash
PENSACOLA, Fla.—A 10-year-old Pensacola girl was struck by a car while riding her bike on Thursday, May 18, 2017.
A Florida Highway Patrol officer confirmed on Thursday afternoon that Delilgha Rosa-Clark died from her injuries.
Rosa-Clark was airlifted to Sacred Heart hospital in critical condition after she was struck by a Ford Edge at about 7:20 a.m. in the area of Merlin Road and Oak View Drive near Hellen Caro Elementary School.
Rosa-Clark was riding her bicycle within the bike lane when Wilder allegedly failed to see the child and didn't observe the right-of-way, according to the release.
A Florida Highway Patrol press release identified the driver of the car as a 47-year-old man of Pensacola.
Charges are pending in the case.
Facebook Comments