Los salvavidas de Pensacola Beach regresan a sus torres
PENSACOLA BEACH, Fla. – Los salvavidas de Pensacola Beach han regresado a sus torres para la temporada de salvavidas 2021. Inicialmente, de una a tres torres en Casino Beach contarán con personal de 9 a.m. a 5 p.m. los siete días de la semana a partir del domingo 14 de marzo. La dotación de personal aumentará para brindar cobertura en hasta 10 torres, incluidas las torres en Gulf Islands National Seashore, a partir del fin de semana del Día de los Caídos.
En preparación para la temporada 2021, Pensacola Beach contrató a 19 nuevos socorristas y dio la bienvenida a 56 socorristas que regresaban a un riguroso programa de capacitación, que incluyó 80 horas de capacitación en aguas abiertas, capacitación médica de emergencia y más.
La temporada pasada, Pensacola Beach Lifeguards (salvavidas) realizó 104 rescates por ahogamiento y 128 asistencias a nadadores que experimentaban angustia moderada, también atendieron 35 incidentes médicos graves y asistieron a 31 pacientes para el transporte de EMS. Los salvavidas se pusieron en contacto con los bañistas 157,633 veces durante la temporada 2020, proporcionando información sobre las corrientes de resaca, las banderas del estado de la playa y otros consejos de seguridad.
Los salvavidas de Pensacola Beach han mantenido su presencia en Casino Beach durante todo el invierno desde que la temporada 2020 terminó el 19 de octubre, principalmente a través de vehículos de patrulla.
Seguridad Pública alienta a los residentes y visitantes a seguir todas las reglas de Pensacola Beach y tener cuidado al visitar la playa y nadar en el Golfo, especialmente cuando no hay salvavidas presentes:
Pensacola Beach Lifeguards Return to Towers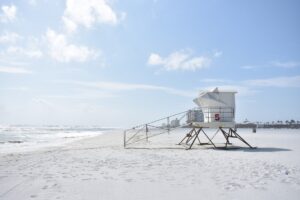 PENSACOLA BEACH, Fla. – Pensacola Beach Lifeguards have returned to their towers for the 2021 lifeguard season. Initially, one to three towers at Casino Beach will be staffed from 9 a.m. to 5 p.m. seven days a week beginning Sunday, March 14. Staffing will increase to provide coverage at up to 10 towers, including the towers at Gulf Islands National Seashore, begin Memorial Day weekend.
In preparation for the 2021 season, Pensacola Beach hired 19 new lifeguards and welcomed 56 returning lifeguards to a rigorous training program, including 80 hours of open water training, emergency medical training and more.
Last season, Pensacola Beach Lifeguards performed 104 rescues from drowning and 128 assists to swimmers experiencing moderate distress, also attended to 35 major medical incidents and assisted 31 patients for EMS transport. Lifeguards made contact with beachgoers 157,633 times during the 2020 season, providing information about rip currents, beach condition flags and other safety tips.
Pensacola Beach Lifeguards have maintained a presence on Casino Beach throughout the winter since the 2020 season ended Oct. 19, primarily through patrol vehicles.
Public Safety encourages residents and visitors to follow all Pensacola Beach rules and exercise caution when visiting the beach and swimming in the Gulf, especially when lifeguards are not present:
[adrotate group="1"]