Los lugareños protestan contra la brutalidad policial y el racismo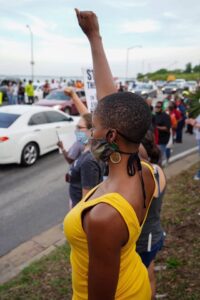 Si bien gran parte de la cobertura mediática de las protestas en las grandes ciudades de todo el país muestran escenas caóticas de destrucción e incluso violencia, la mayoría de las manifestaciones comunitarias han sido pacíficas. Los manifestantes de Pensacola han sido elogiados por mantener protestas pacíficas durante más de una semana después de que el asesinato de un hombre afroamericano desarmado por parte de la policía de Minneapolis fuera capturado en video.
George Floyd murió el 25 de mayo después de que un oficial de policía se arrodillara en su cuello durante más de ocho minutos, mientras que otros dos oficiales ayudaron a contenerlo y otro detuvo a los testigos. En sus últimos momentos, Floyd les dijo a los oficiales que no podía respirar y se le puede escuchar llorar por su difunta madre. En respuesta, las protestas contra la brutalidad policial y el racismo se han organizado localmente en comunidades como Navarre, Crestview y Mobile y en todo el país y en países de todo el mundo.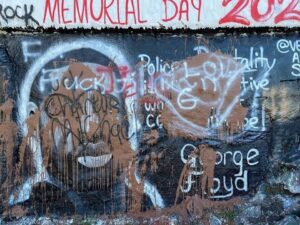 En Pensacola, se pintó un mural de Floyd en EL Graffiti Bridge, un lugar conocido por los lugareños donde el arte del graffiti generalmente se permite y pinta a menudo ubicado en la 17th y E. Gregory St., cerca del centro de Pensacola. Pero el mural de Floyd fue desfigurado poco después de ser pintado. El acto resonó rápidamente dentro de la comunidad como un acto de falta de respeto en un momento de duelo. Pero en lugar de reaccionar con ira, Kyle Cole de Pensacola y el artista Brandon Vessels de Foley trabajaron juntos para volver a pintar el mural al día siguiente. Inmediatamente, las personas de la comunidad respondieron con una gran cantidad de apoyo en suministros y protección del nuevo mural y algunos otros murales que ahora se muestran en el puente.
Cientos de personas han asistido o conducido por el puente cada día y cada noche en solidaridad con lo que se aclama como una protesta pacífica exitosa. Cole y su comité lideran a los manifestantes en cánticos mientras Vessels continúa pintando. Los manifestantes con carteles que afirman "Black Lives Matter" y que condenan el racismo se alinean en la calle y el puente. Por la noche, se dirige a los asistentes a encender las luces de su teléfono celular mientras la vigilia se conduce a una marcha por la costa. Los oficiales de policía dirigen el tráfico para ayudar. Cole dice que renunció a su trabajo el miércoles para dedicar su tiempo a la causa.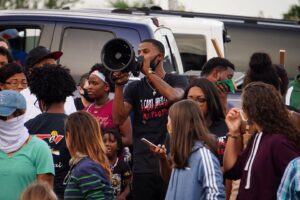 La propietaria de La Costa Latina, Grace Resendez McCaffery, habló para reconocer el apoyo de la comunidad latina.
"Mientras estamos aquí para honrar los recuerdos de las personas que murieron y recordar sus nombres", dijo, "le pido que recuerde a aquellos cuyos nombres no conocemos porque se hace referencia a ellos solo como 'ilegales' o 'indocumentados'; palabras utilizadas para infundir miedo a nuestra piel morena."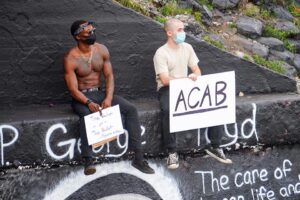 La protesta continúa todos los días. Los organizadores han publicado una lista de demandas de cambio que desean ver en las prácticas de aplicación de la ley, que incluyen el establecimiento de una junta de supervisión civil, la privación de prioridad de los delitos de bajo nivel, el diálogo con la policía y la prohibición del uso de la fuerza letal. Sus demandas también incluyen proporcionar restitución a la familia de Tymar Crawford, de 28 años, un hombre negro que fue asesinado por un ex oficial de policía de Pensacola el 5 de julio de 2019. No se presentaron cargos penales contra el oficial tras una decisión del Gran Jurado.
No se sabe cuánto tiempo continuará la protesta, pero se han programado reuniones para los organizadores, la comunidad, el alcalde de Pensacola, Grover Robinson y las fuerzas del orden.
Locals protest police brutality and racism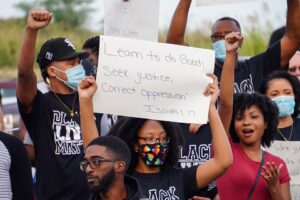 While much of media coverage of protests in large cities around the country show chaotic scenes of destruction and even violence, most community demonstrations have been peaceful. Pensacola protestors have been lauded for maintaining peaceful protests for more than a week after the killing of an unarmed African American man by Minneapolis police officers was captured on video.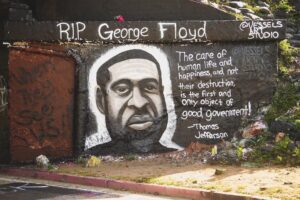 George Floyd died on May 25 after a police officer kneeled on his neck for more than eight minutes while two other officers helped restrain him and another held back witnesses. In his last moments, Floyd told the officers that he couldn't breathe and can be heard crying out for his deceased mother. In response, protests against police brutality and racism have been organized locally in communities including Navarre, Crestview and Mobile and across the country and in countries around the world.
In Pensacola, a mural of Floyd was painted on Graffiti Bridge, a place known to locals where graffiti art is usually allowed and painted over often located on 17th and E. Gregory St. near Downtown Pensacola. But Floyd's memorial was defaced shortly after it was painted. The act quickly resonated within the community as an act of disrespect in a time of mourning. But rather than react in anger, Kyle Cole of Pensacola and artist Brandon Vessels of Foley worked together to repaint the mural the next day. Immediately, people in the community responded with an outpouring of support in supplies and protection of the new mural and a few other murals that are now displayed on the bridge.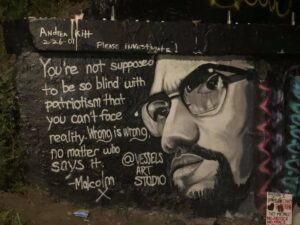 Hundreds of people have been attending or driving by the bridge each day and night in solidarity of what is being hailed as a successfully peaceful protest. Cole and his committee lead protestors in chants while Vessels continues painting. Protestors holding signs affirming "Black Lives Matter" and condemning racism line the street and bridge. At night, attendees are directed turn on their cell phone lights as the vigil leads into a march down the waterfront. Police officers direct traffic to assist. Cole says he quit his job on Wednesday to dedicate his time to the cause.
La Costa Latina owner Grace Resendez McCaffery spoke to acknowledge support from the Latino community.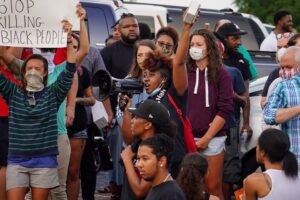 "While we are here to honor the memories of people died and remember their names," she said, "I ask that you please remember those whose names we don't know because they are referred to only as 'illegal' or 'undocumented;' words used to instill fear of our brown skin."
The protest continues daily. Organizers have published a list of demands for change they want to see in law enforcement practices which include establishing a civilian oversight board, deprioritizing low-level offenses, dialogizing the police and prohibiting the use of deadly force. Their demands also include providing restitution to the family of 28-year-old Tymar Crawford, a black man that was killed by a former Pensacola police officer on July 5, 2019. No criminal charges were filed against the officer following a Grand Jury decision.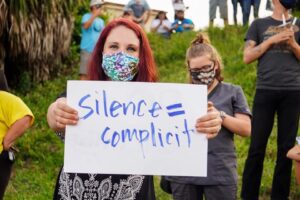 There is no word on how long the protest will continue, but meetings have been scheduled for organizers, the community, Pensacola Mayor Grover Robinson and law enforcement.
[adrotate group="1"]