Las estrellas de rock locales tocarán en un concierto de larga duración en el estadio Blue Wahoos el 3 de octubre
PENSACOLA, Fla. – La preeminente banda de rock clásico de Pensacola subirá al escenario en el Blue Wahoos Stadium el sábado 3 de octubre para una noche épica de rock familiar. El White Tie Rock Ensemble, conocido en todo el Panhandle por combinar los éxitos del rock clásico favoritos de los fans con multimedia vibrante y la precisión técnica de una orquesta, realizará un concierto de larga duración en el campo del estadio a partir de las 7 p.m. Los boletos ya están a la venta en BlueWahoos.com.
"El White Tie Rock Ensemble constantemente vende todas las entradas del legendario Pensacola Saenger Theater y estamos encantados de apoyar nuestra escena musical local y traer una banda de su calidad y popularidad al estadio," dijo el presidente del equipo, Jonathan Griffith. "Con un plan de seguridad completo que se está implementando en el estadio, estamos emocionados de recibir a familias y fans de manera segura para una noche de buena música y recuerdos."
Las puertas se abrirán en el estadio a las 6 p.m. y la banda subirá al escenario acompañada de un cuarteto de cuerdas eléctricas a las 7 p.m. para tocar dos sets de 45 minutos llenos de éxitos clásicos de bandas como Journey, Led Zeppelin, Queen, Lynyrd Skynyrd y Aerosmith. Los asientos de admisión general en las gradas del estadio estarán disponibles por $25.
Los palcos VIP exclusivos en la primera fila en el campo, cada uno con ocho boletos, comida y acceso a una barra de efectivo privada en el campo, están disponibles por $600 ($75 por boleto). Cada palco VIP espacioso será de 10×15 pies con una pasarela de 10 pies entre cada uno para permitir el distanciamiento físico. También habrá asientos disponibles en el Hancock Whitney Club con vista al campo por $65 por boleto, incluido un buffet estilo cena y acceso a una barra de efectivo privada.
Todos los asientos de admisión general seguirán las pautas de distanciamento físico con filas alternas bloqueadas en el tazón de asientos del estadio. El personal del estadio estará en su lugar en todo el estadio para garantizar que se mantenga la distancia física. Se requieren máscaras para todo el personal y los invitados en el estadio, pero se pueden quitar al comer/beber o cuando se sienten para disfrutar del espectáculo con la distancia adecuada.
Local rock stars to play full-length concert at Blue Wahoos Stadium on October 3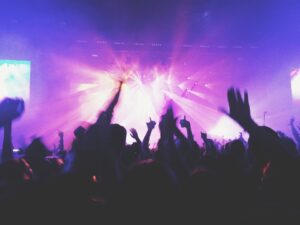 PENSACOLA, Fla. – Pensacola's preeminent classic rock band will take the stage at Blue Wahoos Stadium on Saturday, October 3 for an epic night of family-friendly rock. The White Tie Rock Ensemble, known across the Panhandle for combining fan-favorite classic rock hits with vibrant multimedia and the technical precision of an orchestra, will perform a full-length concert on the field at the ballpark beginning at 7 p.m. Tickets are on-sale now at BlueWahoos.com.
"The White Tie Rock Ensemble consistently sells out Pensacola's legendary Saenger Theater and we're thrilled to support our local music scene and bring a band of their quality and popularity to the ballpark," team president Jonathan Griffith said. "With a full safety plan being put in place in the stadium, we're excited to safely host families and fans for a night of great music and memories."
Gates will open at the stadium at 6 p.m. and the band will take the stage accompanied by an electric string quartet at 7 p.m. PM to play two 45-minute sets filled with classic hits from bands like Journey, Led Zeppelin, Queen, Lynyrd Skynyrd, and Aerosmith. General admission seating will be available in the stadium's stands for $25.
Exclusive front-row VIP on-field boxes, each including eight tickets, food, and access to a private on-field cash bar, are available for $600 ($75 per ticket). Each spacious VIP box will be 10×15 feet with a 10-foot walkway between each to allow for physical distancing. Seating will also be available in the Hancock Whitney Club overlooking the field for $65 per ticket, including a dinner-style buffet and access to a private cash bar.
All general admission seating will follow physical distancing guidelines with alternating rows blocked off in the stadium's seating bowl. Ballpark staff will be in place throughout the stadium to ensure physical distancing is maintained. Masks are required for all staff and guests in the ballpark but may be removed when eating/drinking or when seated to enjoy the show with proper distancing. 
[adrotate group="1"]