La UWF recibe el 4to premio nacional de excelencia en diversidad
PENSACOLA, Fla. – La University of West Florida ha sido galardonada con el 2019 Higher Education Excellence in Diversity o HEED (Premio a la Excelencia en la Diversidad de la Educación Superior), otorgado por la revista INSIGHT Into Diversity. El premio reconoce a los colegios y universidades de EE. UU. Que demuestran un compromiso excepcional con la diversidad y la inclusión. UWF también recibió este honor nacional en 2015, 2016 y 2018. La universidad se presentará junto con otros 92 ganadores del premio HEED en la edición de noviembre de 2019 de la revista INSIGHT Into Diversity.
"Todos los días en la UWF, nos enfocamos en crear una cultura inclusiva," dijo la presidenta de la UWF, Martha D. Saunders. "Nos enorgullecemos de cómo nuestros estudiantes, profesores y personal sienten que pertenecen a nuestro campus. El premio HEED es un gran honor para nuestra universidad y simboliza que estamos haciendo un progreso significativo."
La universidad lidera una serie de esfuerzos de diversidad en el campus y en la comunidad, incluido un programa de llegada anticipada para estudiantes entrantes de la UWF identificados con trastorno del espectro autista e inscritos en clases para el semestre de otoño. ASD Early Arrival se enfoca en temas como estrategias académicas, habilidades de vida independiente, habilidades sociales y preparación para la carrera. Los temas se presentan durante una serie de talleres de dos días, mesas redondas y conferencias de oradores invitados. Además, los estudiantes tienen la opción de mudarse a sus residencias antes del inicio del programa.
Además,la UWF promueve y celebra la diversidad durante todo el año, siguiendo de cerca un plan de diversidad de cuatro años que comenzó en 2018. La UWF fue reconocido por eventos, iniciativas y oportunidades de participación.
UWF receives 4th national excellence in diversity award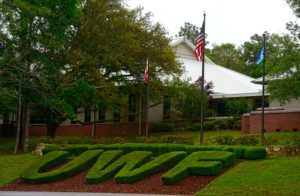 PENSACOLA, Fla. – The University of West Florida has been awarded the 2019 Higher Education Excellence in Diversity, or HEED, Award from INSIGHT Into Diversity magazine. The award recognizes U.S. colleges and universities that demonstrate an outstanding commitment to diversity and inclusion. UWF also received this national honor in 2015, 2016 and 2018. The University will be featured alongside 92 other HEED Award recipients in the November 2019 issue of INSIGHT Into Diversity magazine.
"Every day at UWF, we focus on creating an inclusive culture," said UWF President Martha D. Saunders. "We pride ourselves on how our students, faculty and staff feel they belong on our campus. The HEED Award is a great honor for our University and symbolizes that we are making significant progress."
The University leads a number of diversity efforts on campus and in the community, including an early arrival program for incoming UWF students identified as having Autism Spectrum Disorder and enrolled in classes for the fall semester. ASD Early Arrival focuses on topics such as academic strategies, independent living skills, social skills and career readiness. Topics are presented during a two-day series of workshops, panel discussions and guest speaker lectures. Additionally, students have the option of moving into their residence halls prior to the start of the program.
Additionally, UWF promotes and celebrates diversity year-round, closely following a four-year diversity plan that began in 2018. UWF was recognized for events, initiatives and involvement opportunities. 
[adrotate group="1"]