La promoción Visit Florida presenta puntos de acceso latinos locales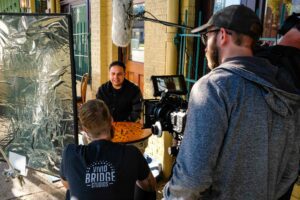 PENSACOLA, Fla. – Cuando los productores de una campaña promocional de Visit Florida preguntaron a la propietaria del periódico La Costa Latina, Grace Resendez McCaffery, sobre dónde encontrar buena comida latina y vida nocturna en Pensacola, una lista de amigos y socios comerciales de larga data llegó a mente. Finalmente, la productora eligió El Asador y Latin Night at Seville Quarter.
Después de algunas entrevistas preliminares y programación con el dueño de El Asador, Rive Garcia y DJ David Collado, un equipo de camarógrafos profesionales filmó en ambos lugares para mostrar al mundo lo que la comunidad latina en Pensacola tiene para ofrecer en términos de atracciones turísticas.
"Es realmente un privilegio trabajar junto a Visit Florida para mostrar la cultura hispana, y al hacerlo, se me ha dado una oportunidad única de conectarme aún más con nuestra comunidad local y, en última instancia, ayudar a mostrar algunas de las grandes cosas que hacen del Golfo Costa un gran lugar para vivir, trabajar y jugar," dijo Benjamin Murphy, Director de Vivid Bridge Studios.
El video se mostrará en otras partes de la Florida, pero La Costa Latina se asegurará de publicarlo en su página de Facebook tan pronto como esté disponible. Siga a La Costa Latina en facebook.com/latinomedia.
VisitFlorida promo features local Latino hotspots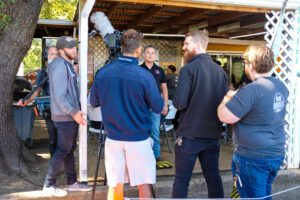 PENSACOLA, Fla. — When producers of a Visit Florida promotional campaign asked La Costa Latina Newspaper owner, Grace Resendez McCaffery for leads on where to find good Latino food and night life in Pensacola, a list of long-time business associates and friends came to mind. Ultimately, the production company chose El Asador and Latin Night at Seville Quarter.
After some preliminary interviews and scheduling with El Asador owner, Rive Garcia, and DJ David Collado, a professional camera crew filmed at both locations to show the world just what the Latino community in Pensacola has to offer in terms of tourism attractions.
"It's truly a privelage to work alongside Visit Florida in showcasing the Hispanic Culture, and in doing so I've been given a unqiue opportunity to connect even further with our local communuty, and ultimately help showcase some of the great things that make the Gulf Coast a great place to live, work, and play," said Benjamin Murphy, Director of Vivid Bridge Studios.
The video will be shown in other parts of Florida, but La Costa Latina will be sure to post it on their Facebook page as soon as it is available. Follow La Costa Latina at facebook.com/latinomedia.
[adrotate group="1"]