¡HICA! Insta al Congreso a Defender DACA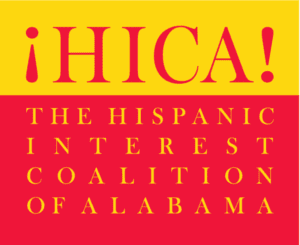 BIRMINGHAM, Ala. – La Coalición de Intereses Hispanos de Alabama (¡HICA!) pide a los miembros del Congreso que defiendan el programa de Acción Diferida para los Llegados en la Infancia (DACA), que brinda la oportunidad, a inmigrantes que llegaron a este país de niños sin documentación, para trabajar y asistir a la escuela sin tener que vivir con el miedo a ser deportados. A lo largo de sus cinco años de historia, DACA ha proporcionado un camino para que cientos de miles de jóvenes inmigrantes contribuyan a nuestro país. Estas son personas que han vivido en los Estados Unidos desde que eran niños.
DACA se enfrenta a un destino incierto ya que el Presidente Trump ha sugerido que pondrá fin al programa. ¡HICA! se opone enérgicamente a cualquier medida adoptada por esta Administración para poner fin o restringir el programa DACA e insta a los miembros del Congreso a que adopten medidas legislativas para proteger DACA y hacerlo permanente.
Isabel Rubio, Directora Ejecutiva de ¡HICA!, declaró: "El Programa DACA es sentido común en términos económicos, los receptores de DACA son importantes contribuyentes económicos y este programa desbloquea su potencial económico para nuestro país". El Instituto de Política Fiscal y Económica estima que los 1,3 millones de jóvenes inmigrantes indocumentados inscritos o inmediatamente elegibles para DACA contribuyen con un estimado de $2 mil millones al año en impuestos estatales y locales. La continuación del programa DACA aumentaría los ingresos estatales y locales estimados en 425 millones de dólares, dejando una contribución total de 2,45 mil millones de dólares. La derogación del estatuto legal temporal y las autorizaciones de trabajo permitidas por DACA reducirían los ingresos estatales y locales estimados en casi 800 millones de dólares y reducirían el total de contribuciones a algo más de 1.200 millones de dólares anuales.
"Los 'Dreamers' no han violado ninguna ley, ellos han dado un paso adelante con valentía y compartieron su estatus migratorio con el gobierno de los Estados Unidos. Ellos también, como patriotas, están 'Haciendo América Grande' creando empleos y contribuyendo significativamente a la economía. Eliminar DACA pondría a estos jóvenes en riesgo inmediato de deportación", concluyó Rubio.
¡HICA! pide a la comunidad y a sus donadores que tomen medidas inmediatas para defender DACA llamando a los miembros del Congreso. ¡Llame ahora! Encuentre su representante en el siguiente link: https://www.govtrack.us/congress/members/AL#representatives
En nombre de ¡HICA! y de la comunidad Hispana de inmigrantes que servimos, ¡GRACIAS!
¡HICA! Urges Congress to Defend DACA Program
The Hispanic Interest Coalition of Alabama (¡HICA!)  is a 501(c) 3 nonprofit organization dedicated to the social, civic and economic integration of Alabama's Hispanic community. ¡HICA! was founded in 1999 and is headquartered in Birmingham. For more information, visit www.hispanicinterest.org or call 205-942-5505
BIRMINGHAM, Ala. – The Hispanic Interested Coalition of Alabama ¡HICA! calls on Members of Congress to defend the Deferred Action for Childhood Arrivals (DACA) program, which provides the opportunity to work and attend school without living in fear of deportation to immigrants who arrived in this country as children without documentation.  Over the course of its five-year history, DACA has provided a path for hundreds of thousands of young immigrants to contribute to our country.  These are people who have lived in the United States since they were children.   DACA faces an uncertain fate as President Trump has suggested that he will end the program.  ¡HICA! vigorously opposes any move by this Administration to end or curtail the DACA program and urges Members of Congress to take legislative action to protect the DACA program and make it permanent.   ¡HICA!'s Executive Director Isabel Rubio stated: "The DACA Program is just economic common sense.  DACA recipients are important economic contributors and this program unlocks their economic potential for our country."  The Institute on Tax and Economic Policy estimates that the 1.3 million young undocumented immigrants enrolled or immediately eligible for DACA contribute an estimated $2 billion a year in state and local taxes. Continuing the DACA program would increase estimated state and local revenue by $425 million, bringing the total contribution to $2.45 billion. Repealing the temporary legal status and work authorizations permitted by DACA would reduce estimated state and local revenues by nearly $800 million, and drop the total contributions to just over $1.2 billion annually.
"The Dreamers have broken no law. They have courageously stepped forward and shared their immigration status with the US government. These dreamers are also "Making America Great" as patriots creating jobs and contributing significantly to the economy. Terminating DACA will put these youth at immediate risk of deportation." Rubio concluded. ¡HICA! calls on the community and partners to take immediate action to defend the DACA Program, including by communicating with members of Congress. Call  NOW! Find your representative here: https://www.govtrack.us/congress/members/AL#representatives
On behalf of ¡HICA! and the Hispanic immigrant community we serve, THANK YOU!  
[adrotate group="1"]