Estreñimiento en los niños
Por Dr. Michael Enriquez
Uno de los problemas frecuentados en el hospital pediátrico es el estreñimiento. Síntomas del estreñimiento incluyen dolor abdominal, heces duras y secas que son difíciles o dolorosas de pasar, falta de apetito, o sangre en las heces. Aunque el estreñimiento puede ser incomodo, típicamente es temporal, tratable, y prevenible.
El estreñimiento ocurre por varias razones, incluyendo una dieta pobre en fibra y agua, la retención voluntaria, o por falta de independencia como en el niño pequeño que esta aprendiendo a tomar control. Las enfermedades, medicamentos, y cambios rutinarios o situaciones estresantes son causas también.
El tratamiento consiste en mantener una dieta rica en verduras, frutas, legumbres, y cereales porque son abundantes en fibra, y un consumo de agua adecuado diario. Se puede programar hora de baño en los que retienen la defecación voluntariamente. El ejercicio y eliminación del inactividad también ayuda. El jugo de ciruela o de pera son de uso popular para el alivio inmediato. Su medico también puede recomendar laxantes, cuales deben ser utilizados con precaución, como el Miralax y el supositorio de glicerina.
Recuerde que los hábitos intestinales varian según el individual, y es importante conocer el de su niño. 
Constipation in Children
By Dr. Michael Enriquez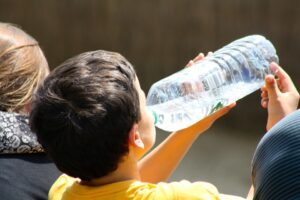 One of the problems frequented at the children's hospital is constipation. Symptoms of constipation include abdominal pain, hard and dried stools that are difficult or painful to pass, loss of appetite, or bloody stools. Even though constipation can be uncomfortable, it is typically temporary, treatable, and preventable.
Constipation occurs for several reasons, including a diet poor in fiber and water, voluntary retention, or lack of independence such as toddlers that are learning to take control. Diseases, medications, changes in routine or stressful situations are other common causes.
Treatment consists of maintaining a diet rich in vegetables, fruits, legumes, and cereals because they are abundant in fiber, as well as adequate daily consumption of water. Toilet time can be scheduled for those that withhold stools voluntarily. Exercise and elimination of inactivity also help. Prune or pear juice is popular for immediate relief. Your doctor can also recommend laxatives, which should be used with caution, such as Miralax and glycerin suppository.
Remember that intestinal habits vary according to the individual, and it is important to know your child's. 
[adrotate group="1"]