El servicio de tranvía gratuito comienza en Pensacola Beach el 25 de mayo
PENSACOLA BEACH, Fla.–El servicio de tranvía gratuito en Pensacola Beach comenzará a funcionar el viernes 25 de mayo a las 4 p.m., con el inicio del fin de semana del  Memorial Day.
El sistema de tranvía, financiado por Santa Rosa Island Authority, es gratuito para todos los pasajeros. Tres tranvías al aire libre darán servicio a la playa todos los días. Mientras que un tranvía se dirigirá al este, otro correrá hacia el oeste. Un tercer tranvía permanecerá en el área central y moverá a los pasajeros por el paseo marítimo de Pensacola Beach, Casino Beach y Via De Luna hasta la estación de bomberos.
Los tranvías ecológicos proporcionan una vista de 360 grados para los pasajeros, ya que no tienen ventanas ni paredes laterales. Cada tranvía también cuenta con un monitor de pantalla plana que muestra las oportunidades recreativas en la isla y detalla lo que está disponible en cada parada del tranvía.
El cronograma de tranvía 2018 se ejecutará DIARIAMENTE a partir del viernes 25 de mayo hasta el Día del Trabajo el lunes 3 de septiembre. Los tranvías se ejecutarán a partir de las 4 p.m. hasta la medianoche, con las últimas recolecciones a las 11:30 p.m. Los tranvías recogen y dejan a los pasajeros solo en las paradas designadas del tranvía.
Los tranvías de playa ayudan a aliviar la congestión del tráfico al permitir que los visitantes se estacionen en cualquier lugar y tengan una manera conveniente de recorrer toda la isla. Cada tranvía es energéticamente eficiente, funciona con combustible diesel limpio y está equipado con un dispositivo GPS que rastrea electrónicamente su ubicación, actualizando su posición cada 30 segundos.
Los visitantes pueden acceder al cronograma del tranvía en tiempo real de cuatro maneras:
Visite el "Trolley Tracker" en visitpensacolabeach.com/trolley-map/
Llame al 850-602-9384 e ingrese el número de parada del tranvía
Escriba SRIA (espacio) y el número de parada del tranvía en 41411
Escanee el código QR publicado en cada parada de tranvía con un teléfono inteligente
Para ver un mapa de todas las ubicaciones de parada del tranvía, o para obtener más información, visite visitacolabeach.com/trolley-information.
Free trolley service starts on Pensacola Beach May 25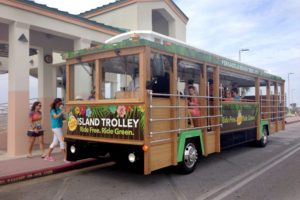 PENSACOLA BEACH, Fla. — The free trolley service on Pensacola Beach will kick into full swing on Friday, May 25, at 4 p.m., with the start of Memorial Day weekend.
The trolley system, funded by the Santa Rosa Island Authority, is free to all riders. Three open-air trolleys will service the beach daily. While one trolley will be running east, another will be running west. A third trolley will remain in the core area moving passengers around the Pensacola Beach Boardwalk, Casino Beach and Via De Luna as far as the fire station.
The environmentally-friendly trolleys provide a 360-degree view for passengers, having no windows or sidewalls. Each car also features a flat-screen monitor that showcases recreational opportunities on the island and details what's available at each trolley stop.
The 2018 trolley schedule will run DAILY starting Friday, May 25, through Labor Day Monday, Sept. 3. The trolleys run from 4 p.m. to midnight, with the last pickups at 11:30 p.m. Trolleys pick up and drop off passengers only at the designated trolley stops.
The beach trolleys help alleviate traffic congestion by allowing visitors to park anywhere and have a convenient way to tour the whole island. Each open-air trolley is energy efficient, runs on clean diesel fuel and is outfitted with a GPS device that electronically tracks its location, updating its position every 30 seconds.
Visitors can access the real-time trolley schedule four ways:
Visit the "Trolley Tracker" at visitpensacolabeach.com/trolley-map/
Call 850-602-9384 and enter the trolley stop number
Text SRIA (space) and the trolley stop number to 41411
Scan the QR code posted at each trolley stop with a smartphone
To see a map of all trolley stop locations, or for more information, go to visitpensacolabeach.com/trolley-information.
[adrotate group="1"]