El Revelde estrena Mr. Let's Go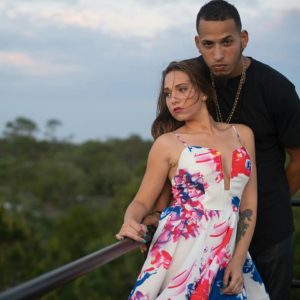 PENSACOLA, Fla.—Varios artistas conocidos de la música latina pronto tendrán una conexión con la Costa del Golfo, ya que han colaborado para producir un álbum e incluyir al reggaetonero de Pensacola, Jay "El Revelde" Guzmán-Pérez.
Aunque actualmente no puede revelar mucho sobre el proyecto, la anticipación está creciendo para su lanzamiento de verano. Hasta entonces, Perez está lanzando varios singles bajo su propio proyecto llamado "Mr. Let's Go."
Nativo de Mayagüez, Puerto Rico, El Revelde dice que su música es un verdadero sonido reggaetón que se llena de energía con ritmos pegadizos. Realiza muchas de sus canciones con su esposa, Karina, cuyos padres son de Costa Rica. Karina también trabaja como modelo profesional.
"Ahora hay mucha trap y traperos, pero me quedo con lo que realmente me gusta y resalto la música más," dijo Pérez. Sus singles también cuentan con artistas como el cantautor y productor puertorriqueño Guelo Star, y dos grabaciones con Gallego "El Poeta" Callejero.
"Conocer y trabajar con DJ Playero es algo increíble para mí," agregó Pérez. "Sólo tenía que trabajar con Galle y su poesía. Cada canción tiene el color y el sabor que queríamos proyectar."
Pérez dice que sus hijos son su inspiración para su música. Vhenus, 6, Ili, 7, Ari, 4 y Yio, 2, dice, son su motivación para los ritmos de baile y en su mayoría español y algunas letras en inglés.
Promociones del álbum de verano en Soundcloud de El Revelde, Spotify, MTV, ITunes, VeVo y YouTube pronto. El video oficial y mp3 de "Yo Te Quiero Ver (Baby)" y el nuevo single "Me Muero" ya están disponibles en los mismos puntos de venta.
Vea a Jay "El Revelde" y Karina en vivo en el Soul Fest el 27 de mayo. Manténgase en contacto con el periódico La Costa Latina para más detalles.
El Revelde Releases Mr. Let's Go
PENSACOLA, Fla.—Several well-known Latino music artists will soon have a connection with the Gulf Coast as they have collaborated to produce an album and including Pensacola reggaetonero, Jay "El Revelde" Guzman-Perez.
While he is not currently able to reveal much about the project yet, the anticipation is growing for its summer release. Until then, Perez is releasing several singles under his own project called "Mr. Let's Go."
A native of Mayaguez, Puerto Rico, El Revelde's says that his music is a true reggaetón sound that is filled with energy a catchy rhythms. He performs many of his songs with his wife, Karina whose parents are from Costa Rica. Karina also works as a professional model.
"Right now there's a lot of trap and trappers, but I stick with what I really like and highlight the music more," Perez said. His singles also feature artists such as Puerto Rican singer-songwriter and producer Guelo Star, and two recordings with Gallego "El Poeta" Callejero.
"Knowing and working with DJ Playero is something super incredible for me," Perez added. "I just had to work with Galle and his poetry. Each song has the color and the flavor that we wanted to project."
Perez says that his children are his inspiration for his music. Vhenus, 6, Ili, 7, Ari, 4 and Yio, 2, he says, are his motivation for the dance beats and mostly Spanish and some English language lyrics.
Promotions of the summer album on El Revelde's Soundcloud, Spotify, MTV, ITunes, VeVo and YouTube soon. The official video and mp3 of "Yo Te Quiero Ver (Baby)" and the new single "Me Muero" are available now on the same outlets.
Catch Jay "El Revelde" and Karina live at Soul Fest in May 27. Keep in touch with La Costa Latina Newspaper for details.