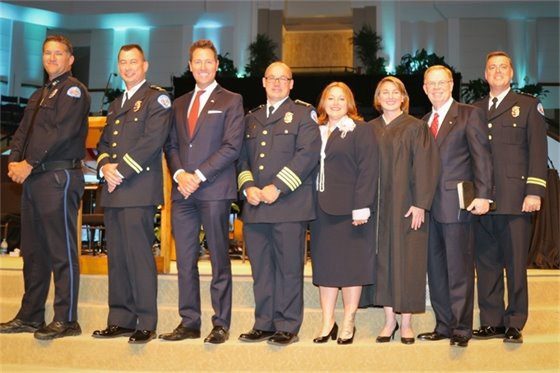 El Jefe de Policía Lyter Oficialmente Instalado
PENSACOLA, Fla. – Tommi Lyter fue nombrado como Jefe de Policia por el alcalde de Pensacola Ashton Hayward III el dia 11 de mayo del 2017. Lyter habia sido nombrado Jefe Iterino del Departamento de Policia de Pensacola el dia 6 de mayo del 2017, un día despues de que el jefe de Policia anterior, David Alexander III se retirara.
"Tommi ha sido uniformemente profesional tanto dentro como fuera de servicio" dijo el alcalde de Pensacola Ashton Hayward. "Él es el pleno ejemplo de como un fuerte impulso hacia el exito, la dedicacion al trabajo, y el trato de todos a tu alrededor con el mayor respeto te lleva a alcanzar tus metas," dijo Hayward. "Pensacola tiene la bendición de tener uno de los departamentos de policia más finos, profesionales, y dedicados en America y estoy orgulloso de ver al Jefe de Policia Lyter tomar el timón."
El Jefe de Policia Lyter comenzo su carrera con el Departamento de Policia de Pensacola cuando fue contratado como Oficial de Policia en agosto de 1990. Fue ascendido a Sargento en el 2003, a Teniente en el 2006, a Capitán en el 2014, y a Jefe Auxiliar el 16 de Julio del 2015.  Él tiene una Licenciatura de Ciencias en Justicia Penal y una Maestría en Administración Publica de la Universidad de Troy State.  Él también es graduado de la Academia Nacional del FBI en Quantico, VA.
El Jefe de Policia Lyter ha recibido tres Cruzes de Bronze, una Citación de Unidad, dos premios de Jefé de Policia, y un premio por Servicio Meritorio. Sus responsabilidades en el departamento han incluido director de proyecto de camaras corporales y de un sistema de vigilancia en toda la ciudad.
Lyter ha proporcionado personalmente la seguridad en los Festivales Latinos en Pensacola cada año.
"Estar en una posición de liderazgo es honorable" dijo el Jefe de Policia Tommi Lyter. "Les prometo mi lealtad, mi dedicación, y mi compromiso con la excelencia" dijo Lyter. "Gracias desde el fondo de mi corazón, estoy sumamente honrado y espero el trabajar con los ciudadanos de Pensacola."
Chief Lyter Officially Installed
PENSACOLA, Fla. – Tommi Lyter was appointed Chief of Police by Pensacola Mayor Ashton Hayward III on May 11, 2017. He was named Acting Chief of the Pensacola Police Department on May 6, 2017, one day after the previous Chief of Police, David Alexander III, retired.
"Tommi has consistently been a professional both on and off duty," said Pensacola Mayor Ashton Hayward. "He is the prime example of how a strong drive for success, dedication to your job, and treating all those around you with the utmost respect, will lead you to achieve your goals," Hayward said. "Pensacola is blessed to have one of the finest, most professional, and most dedicated police departments in America and I am proud to see Chief Lyter take the helm."
Chief Lyter began his career with the Pensacola Police Department when he was hired as a police officer in August 1990. He was promoted to sergeant in 2003, promoted to lieutenant in 2006, to captain in 2014, and to Assistant Chief on July 16, 2015. He has a Bachelor of Science Degree in Criminal Justice and a Master's Degree in Public Administration from Troy State University. He also is a graduate of the FBI National Academy in Quantico, VA.
Chief Lyter has received three bronze crosses, one unit citation, two Chief's Awards, and one meritorious service award. His department responsibilities have included project manager for body cameras and a citywide surveillance system.
Lyter has personally provided security at the annual Latino Festivals in Pensacola each year.
"To be placed in a position of leadership is humbling," said Chief Tommi Lyter. "I pledge to you my loyalty, my dedication, and my commitment to excellence," Lyter said. "Thank you from the bottom of my heart. I am extremely honored and I look forward to working with the citizens of Pensacola."