El alcalde Robinson emite el estado de emergencia local para COVID-19
PENSACOLA, Fla. – El martes 10 de noviembre, el alcalde Grover Robinson emitió la Declaración de estado de emergencia 20-07, declarando el estado de emergencia en la ciudad de Pensacola debido al COVID-19.
Este estado de emergencia es en respuesta al número de hospitalizaciones locales por COVID-19 que aumentaron a 78 hospitalizaciones en total dentro de los tres sistemas hospitalarios locales a partir de hoy, martes 10 de noviembre. Los números de hospitalización diaria se pueden ver en el tablero de COVID de la ciudad de Pensacola- 19 COVID-19 dashboard.
Además, los datos del Departamento de Salud de Florida indican que el número de casos positivos de COVID-19 en el condado de Escambia se ha disparado con 90 casos positivos informados el 8 de noviembre, un promedio de 84 casos nuevos cada día durante el período de siete días que lleva hasta inclusive el 8 de noviembre, y una tasa de positividad de siete días del 7,3% para la semana que finalizó el 6 de noviembre, frente al 5,1% y el 4,4% de las dos semanas anteriores. Estos datos indican una mayor propagación y transmisión de la enfermedad en las comunidades locales.
Se recuerda a los residentes que la Ordenanza de la Ciudad 15-20 todavía está en vigencia, que requiere que los empleados y clientes usen cubiertas para la cara dentro de los negocios dentro de los límites de la Ciudad de Pensacola.
Los residentes y visitantes de la ciudad de Pensacola deben continuar tomando medidas para protegerse a sí mismos y a los demás del COVID-19. Los Centros para el Control y la Prevención de Enfermedades recomiendan que todos sigan los siguientes pasos para ayudar a retrasar la propagación del COVID-19:
Lávese las manos con frecuencia con agua y jabón durante al menos 20 segundos, especialmente después de haber estado en un lugar público, o después de sacudirse la nariz, toser o estornudar.
Evite el contacto cercano con otras personas.
Cúbrase la boca y la nariz con una máscara cuando esté cerca de otras personas.
Cúbrase siempre la boca y la nariz con un pañuelo cuando tosa o estornude o use la parte interna del codo y no escupir.
Limpie y desinfecte diariamente las superficies que se tocan con frecuencia. Esto incluye mesas, picaportes, interruptores de luz, encimeras, manijas, escritorios, teléfonos, teclados, inodoros, grifos y lavabos.
Controle su salud a diario: esté alerta a los síntomas. Esté atento a la fiebre, tos, dificultad para respirar u otros síntomas de COVID-19.
Obtenga más información sobre las recomendaciones de COVID-19 de los CDC.
Mayor Robinson Issues Local State of Emergency for COVID-19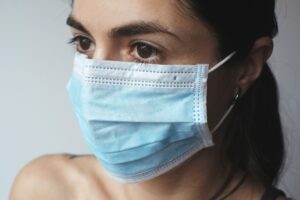 PENSACOLA, Fla. – On Tuesday, Nov. 10, Mayor Grover Robinson issued Declaration of State of Emergency 20-07, declaring a state of emergency in the City of Pensacola due to COVID-19.
This state of emergency is in response to the number of local COVID-19 hospitalizations increasing to 78 hospitalizations total within the three local hospital systems as of today, Tuesday, Nov. 10. Daily hospitalization numbers can be viewed on the City of Pensacola's COVID-19 dashboard.
Additionally, data from the Florida Department of Health indicates that the number of positive cases of COVID-19 in Escambia County has spiked with 90 positive cases reported on Nov. 8, an average of 84 new cases each day for the seven-day period leading up to and including Nov. 8, and a seven-day positivity rate of 7.3% for the week ending Nov. 6, versus 5.1% and 4.4% for the two previous weeks. This data indicates greater local community spread and transmission of the disease.
Residents are reminded that City Ordinance 15-20 is still in effect, which requires face coverings to be worn by employees and patrons inside businesses within City of Pensacola limits.
City of Pensacola residents and visitors should continue to take steps to protect themselves and others from COVID-19. The Centers for Disease Control and Prevention recommends that everyone take the following steps to help slow the spread of COVID-19:
Wash your hands oftenwith soap and water for at least 20 seconds especially after you have been in a public place, or after blowing your nose, coughing, or sneezing.
Cover your mouth and nose with a mask when around others.
Always cover your mouth and nose with a tissue when you cough or sneeze or use the inside of your elbow and do not spit.
Clean AND disinfect frequently touched surfacesdaily. This includes tables, doorknobs, light switches, countertops, handles, desks, phones, keyboards, toilets, faucets, and sinks.
Monitor your health daily: Be alert for symptoms. Watch for fever, cough, shortness of breath, or other symptomsof COVID-19.
Learn more about COVID-19 recommendations from CDC.
[adrotate group="1"]