ECAT reanudará el horario y las tarifas regulares el lunes 25 de enero
CONDADO DE ESCAMBIA, Fla. – ECAT (Tránsito del Área del Condado de Escambia) reanudará su horario regular en la mayoría de las rutas y restablecerá las tarifas regulares el lunes 25 de enero de 2021, que fueron suspendidas desde el lunes 23 de marzo.
Se requerirán mascarillas para viajar en ECAT a partir del lunes 21 de diciembre y se proporcionarán sin cargo.
El Aviso de Salud Pública del Departamento de Salud de Florida recomienda que todas las personas en Florida deben usar máscaras en cualquier lugar donde no sea posible el distanciamiento físico, a menos que se aplique cualquiera de las siguientes situaciones:
Un niño es menor de dos años;
Un individuo tiene una o más condiciones médicas o discapacidades que le impiden usar una cubierta facial;
Una persona está recibiendo un servicio que involucra la nariz o la cara para el cual es necesario quitar temporalmente la cubierta facial para realizar el servicio;
Un individuo trabaja en una profesión donde el uso de una cubierta facial no será compatible con los deberes de la profesión; o
Una persona se dedica a trabajos o actividades recreativas al aire libre con un distanciamiento social adecuado.
Todas las personas mayores de 65 años y todas las personas de cualquier edad con condiciones de salud de alto riesgo deben limitar las interacciones personales fuera del hogar y tomar todas las medidas para limitar el riesgo de exposición al COVID-19.
Todas las personas deben abstenerse de participar en reuniones sociales o recreativas de más de 10 personas. Para todas las reuniones de menos de 10 personas, las personas deben practicar el distanciamiento social manteniendo una distancia de al menos seis pies entre sí y cubriéndose la cara.
Se solicita al pasajero que cumpla con uno de los requisitos anteriores que previene el uso de máscara que notifique al operador del autobús. Se seguirá fomentando el distanciamiento social en todos los vehículos ECAT.
Los operadores de ECAT también seguirán usando máscaras. La temperatura de todos los empleados de ECAT es tomada cuando llegan a trabajar como medida de precaución. ECAT continúa implementando medidas de seguridad y aumentando las limpiezas de autobuses e instalaciones para garantizar la seguridad de los pasajeros y empleados.
El Servicio de atención al cliente de ECAT puede ayudarlo con las rutas y las preguntas llamando al (850) 595-3228. La información actualizada también está disponible en www.goECAT.com.
ECAT to Resume Regular Schedule and Fares on Monday, Jan. 25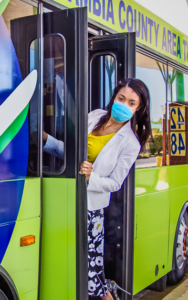 ESCAMBIA COUNTY, Fla. – ECAT (Escambia County Area Transit) will resume running a regular schedule on most routes and reinstate regular fares on Monday, Jan. 25, 2021, which were suspended since Monday, March 23.
Face masks will be required to ride ECAT beginning Monday, Dec. 21. and will be provided free of charge.
The Florida Department of Health Public Health Advisory recommends all individuals in Florida should wear masks in any setting where physical distancing is not possible, unless any of the following apply:
A child is under two years of age;
An individual has one or more medical conditions or disabilities that prevent wearing a face covering;
An individual is obtaining a service involving the nose or face for which temporary removal of the face covering is necessary to perform the service;
An individual works in a profession where use of a face covering will not be compatible with the duties of the profession; or
An individual is engaged in outdoor work or recreation with appropriate social distancing in place.
All individuals over the age of 65 and all individuals of any age with high-risk health conditions should limit personal interactions outside of the home and take all measures to limit the risk of exposure to COVID-19.
All individuals should refrain from participation in social or recreational gatherings of more than 10 people. For all gatherings of fewer than 10 people, individuals should practice social distancing by maintaining a distance of at least six feet from each other and wearing a face covering.
Passenger that meet one of the above requirements that prevents mask wearing are asked to notify the bus operator. Social distancing will still be encouraged on all ECAT vehicles.
ECAT operators will also continue to wear masks. All ECAT employees are subject to temperature checks when they arrive to work as a precaution. ECAT continues to implement safety measures and increased bus and facility cleanings to ensure the safety of the passengers and employees.
ECAT Customer Service can assist with routes and questions at (850) 595-3228. Updated information is also available at www.goECAT.com.  
[adrotate group="1"]