Crecimiento explosivo en Pensacola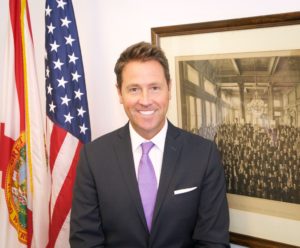 PENSACOLA, Fla. – La oficina del alcalde de la ciudad de Pensacola reportó haber experimentado un crecimiento significativo de la población y un nuevo desarrollo a medida que la ciudad se aproxima a un número récord de población.
La población de la ciudad a partir del censo de 2010 fue de 51.923. Nuestra estimación preliminar de población actual para 2017 es de 54.071. Se trata de un aumento de 2.148 desde el 2010.
Pensacola tiene varios nuevos desarrollos esperados para traer más puestos de trabajo y vivienda a la ciudad, incluyendo el proyecto VT MAE y varios desarrollos de viviendas.
"Estoy orgulloso de decir que los números están en auge," dijo el alcalde de Pensacola, Ashton Hayward. "Pensacola ahora se conoce como una ciudad que está creciendo muy rápido."
Esta estimación actual no toma en cuenta la población de las unidades residenciales actualmente en varias etapas de la terminación dentro del área del centro de la ciudad que traerán. Tampoco incluye los múltiples planos de subdivisión residencial que han sido aprobados en los últimos meses. La oficina de Hayward dice que la tendencia al alza en el crecimiento de la población y la densidad urbana general no sólo debe continuar, sino aumentar significativamente.
"Es emocionante ver que Pensacola se está convirtiendo en lo que imaginamos cuando llegue a la oficina," dijo Hayward. "Eso es un testamento a ser una comunidad sana y hacer las cosas bien."
Estos números son preparados anualmente por Bureau of Economic and Business Research (BEBR) de la University of Florida. Emitieron estimaciones de población basadas en "medidores eléctricos residenciales activos" en los límites de la ciudad en los años intermedios entre los censos oficiales. Mientras que la población del censo del 2000 de Pensacola fue ligeramente superior a 56.255, parece que estamos repitiendo consistentemente de la pérdida en el número de población.
Explosive growth in Pensacola
PENSACOLA, Fla. – The City of Pensacola's mayor's office reported seeing significant population growth and new development as the city approaches record numbers in population.
The City's population as of the 2010 Census was 51,923. Our current preliminary population estimate for 2017 is 54,071. This is an increase of 2,148 since 2010.
Pensacola has several new developments expected to bring more jobs and housing to the city, including the VT MAE project and several housing developments.
"I'm proud to say that the numbers are booming," Pensacola's mayor, Ashton Hayward, said. "Pensacola is now being known as a city that is very fast-growing."
This current estimate does not take into account the population that the residential units currently in various stages of completion within the downtown area will bring. It also does not include the multiple residential subdivision plats that have been approved in recent months. Hayward's office says the upward trend in population growth and overall urban density should not only continue, but significantly increase.
"It's exciting to see that Pensacola is becoming what we envisioned when I first ran for office," Hayward said. "That's a testament to being a healthy community and doing things right."
These numbers are prepared annually by the Bureau of Economic and Business Research (BEBR) at the University of Florida. They issue population estimates based on "active residential electric meters" in the City limits in the intervening years between official census counts. While the 2000 Census population of Pensacola was slightly higher at 56,255, we appear to be consistently rebounding from the loss in population numbers.