Cinco menores en custodia luego de que el auto robado se les averió en la I-10
CONDADO DE OKALOOSA, Fla.–Cinco jóvenes que huyeron de las fuerzas del orden público después que el auto robado en el que se encontraban se averio en la carretera interestatal 10 ahora enfrentan cargos de hurto mayor y resistencia a la detención sin violencia. Tienen edades comprendidas entre los trece y los dieciséis años.
Un oficial de la Okaloosa County Sheriff's Office (Oficina del Sheriff del Condado de Okaloosa) descubrió un auto que resultó ser robado en Santa Rosa County estacionado cerca de Mile Marker 47 en Holt el 8 de octubre con cinco personas de pie junto a él.
Cuando activó sus luces, los cinco corrieron hacia los bosques cercanos. Las unidades y los oficiales de OCSO K9 finalmente ayudaron a localizar a los individuos.
Los acusados son identificados uno como de 16 años de Milton, 13, 14 y de 15 años de Pensacola, y de 14 años de Bagdad, quien también está acusado de posesión de parafernalia de drogas y de dar un nombre falso.
Five juveniles in custody after stolen car breaks down on I-10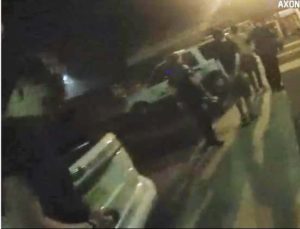 OKALOOSA COUNTY, Fla. – Five juveniles who fled from law enforcement after the stolen car they were in broke down on Interstate 10 now face charges of grand theft and resisting arrest without violence. They range in age from thirteen to sixteen.
An Okaloosa County Sheriff's Office deputy spotted a car that turned out to be stolen out of Santa Rosa County parked near Mile Marker 47 in Holt on October 8 with five individuals standing next to it.
When he activated his lights, all five ran into nearby woods. OCSO K9 Units and deputies ultimately helped track down the individuals.
Those charged are identified as a 16-year-old from Milton, a 13, 14 and a 15-year-old from Pensacola, and a 14-year old from Bagdad who is also charged with possession of drug paraphernalia and providing a false name. 
[adrotate group="1"]