Acuerdo entre la Florida State Hispanic Chamber of Commerce (Cámara de Comercio Hispana del Estado de la Florida) y la Florida SBDC incrementa la colaboración, la conciencia del acceso a los recursos de capital
La Florida SBDC (Small Business Development Center) Network y la Florida State Hispanic Chamber of Commerce (FSHCC, por sus siglas en inglés) firmaron un Memorandum of Understanding (Memorándo de Entendimiento o MOU, por sus siglas en inglés) para aumentar la cooperación y la conciencia sobre los recursos que las organizaciones proveen para ayudar a los Floridanos aspirantes y existentes Hispanos dueños de pequeñas y medianas empresas a acceder a la capital que ellos necesitan para crecer y tener éxito.
El CEO de Florida SBDC y Network State Director (Director de Red del Estado) Michael Myhre, y el FSHCC President y CEO, Julio Fuentes, firmaron el MOU. A través del acuerdo, las organizaciones trabajarán en colaboración en la promoción de programas para agilizar las ofertas de servicios para fomentar el éxito de sus negocios de clientes.
"La Florida es el hogar de la tercera población hispana más grande del país, y entre el 2007 y 2012, el número de empresas de propiedad hispana creció en más del 30 por ciento," dijo Myhre. "Nos incumbe asegurarnos de que los negocios hispanos de la Florida estén armados con los recursos y la experiencia para encontrar el éxito, por eso estamos muy complacidos de asociarnos con la Florida State Hispanic Chamber of Commerce para crear un mayor marco de apoyo."
"Con el enorme crecimiento de los negocios hispanos año tras año, es importante que también nos sumergimos en la comunidad hispana para informar y proporcionar recursos que serán cruciales para su éxito" dijo Fuentes. "Los empresarios hispanos son el futuro de negocios de los Estados Unidos y estamos encantados de asociarnos con la Florida SBDC  Network para continuar trabajando para salvar esa brecha en el acceso al capital entre prestamistas y propietarios de negocios hispanos."
El FSHCC, fue establecida en el año 2000 para servir al crecimiento Hispano y desarrollo de la población, es una organización sin fines de lucro dedicada a promover el apoyo económico de la comunidad empresarial Hispana de la Florida. Reconocida como una de las Cinco Cámaras de la Nación por la U.S. Hispanic Chamber of Commerce (Cámara de Comercio Hispana de los Estados Unidos), la FSHCC reúne a varios sectores de las comunidades empresariales de la Florida, incluyendo empresas hispanas, negocios con trabajadores hispanos y negocios que atienden a consumidores hispanos.
Como parte de su oferta de servicios, la FSHCC estableció el programa Access Florida Capital (Acceso a la Capital de la Florida) para ayudar a las pequeñas y medianas empresas que buscan financiamiento para crecer y expandirse. El programa proporciona materiales y asistencia para guiar a las pequeñas y medianas empresas elegibles a través del proceso de planificación, organización y presentación de solicitudes de financiamiento a los bancos participantes.
La Florida SBDC Network, el principal proveedor de asistencia de negocios del estado, ofrece consultoría, capacitación e información a empresas existentes y aspirantes. Como parte de la oferta de servicios de la red, el Florida SBDC Specialists Access Florida Capital proveen consultoría sin costo y capacitación a bajo costo para ayudar a las pequeñas empresas a localizar, preparar y obtener financiamiento. El Florida SBDC Capital Access Specialists son consultores de negocios certificados profesionalmente, muchos de los cuales son ex-banqueros, dueños de negocios y ejecutivos con años de experiencia y títulos de negocios avanzados
Agreement between Florida State Hispanic Chamber of Commerce and Florida SBDC increases collaboration, awareness of access to capital resources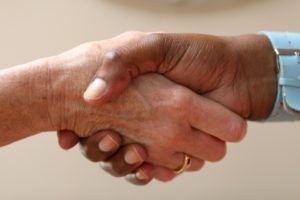 The Florida SBDC Network and the Florida State Hispanic Chamber of Commerce (FSHCC) have signed a Memorandum of Understanding (MOU) to increase cooperation and awareness about the resources the organizations provide to help Florida's aspiring and existing Hispanic-owned small businesses access the capital they need to grow and succeed.
Florida SBDC CEO and Network State Director Michael Myhre and FSHCC President and CEO Julio Fuentes signed the MOU. Through the agreement, the organizations will work in collaboration on program advocacy to streamline service offerings to foster the success of their client businesses.
"Florida is home to the third largest Hispanic population in the country, and between 2007 and 2012, the number of Hispanic-owned businesses grew by over 30 percent," said Myhre. "It is incumbent on us to ensure that Florida's Hispanic-owned businesses are armed with the resources and expertise to find success. That is why we are very pleased to partner with the Florida State Hispanic Chamber of Commerce to create a greater framework of support."
"With the tremendous growth of Hispanic-owned businesses year after year, it's important that we also immerse ourselves in the Hispanic community to inform and provide resources that will be crucial to their success," said Fuentes. "Hispanic entrepreneurs are America's business future, and we are delighted to be partnering with the Florida SBDC Network to continue the work of bridging that gap on access to capital between lenders and Hispanic business owners."
The FSHCC, established in 2000 to serve the state's rising Hispanic population growth, is a nonprofit economic advocacy organization dedicated to promoting the economic advancement of Florida's Hispanic business community. Recognized as one of the Top Five Chambers in the Nation by the U.S. Hispanic Chamber of Commerce, the FSHCC brings together various sectors of Florida's business communities, including Hispanic-owned and operated businesses, businesses with Hispanic workforces, and businesses serving Hispanic consumers.
As part of its service offering, the FSHCC established the Access Florida Capital program to assist small and mid-sized businesses seeking financing to grow and expand. The program provides materials and assistance to guide eligible small and mid-sized businesses through the process of planning, organizing, and presenting funding requests to participating banks.
The Florida SBDC Network, the state's principal provider of business assistance, provides consulting, training, and information to existing and aspiring businesses. As part of the network's service offering, Florida SBDC Capital Access Specialists provide no-cost consulting and low-cost training to help small businesses locate, prepare, and obtain financing. Florida SBDC Capital Access Specialists are professionally certified business consultants, many of whom are former bankers, business owners, and executives with years of experience and advanced business degrees.