Blue Wahoos anuncia el calendario de la temporada 2021
PENSACOLA, Fla. – El calendario de la temporada 2021 para los Pensacola Blue Wahoos fue publicado por el Major League Baseball. El equipo jugará 120 partidos esta temporada, incluidos 60 partidos en casa en Pensacola, entre el 4 de mayo y el 19 de septiembre.
Bajo el nuevo sistema de Licencia de Desarrollo Profesional a través del Major League Baseball, los Blue Wahoos jugarán como parte de la liga Double-A South que cuenta con Pensacola, Biloxi, Mississippi y Montgomery en la División Sur y Birmingham, Chattanooga, Rocket City y Tennessee en la División Norte.
La liga adoptará un formato de serie de seis juegos en 2021 con equipos que jugarán de martes a domingo cada semana. Los lunes servirán como un día libre en toda la liga para facilitar los viajes del equipo.
La temporada de Blue Wahoos comenzará en la carretera contra los Bravos de Mississippi del 4 al 9 de mayo. Pensacola recibirá a los Birmingham Barons el 11 de mayo para su primer partido en casa para comenzar una estadía en casa de 12 juegos que contará con los Barons (del 11 al 16 de mayo) y el primer enfrentamiento del equipo contra los Rocket City Trash Pandas (del 18 de mayo al 23). La última serie en casa del equipo se llevará a cabo del 7 al 12 de septiembre contra Biloxi y los Blue Wahoos finalizarán su serie en la carretera contra Rocket City del 14 al 19 de septiembre.
Se espera que los límites de capacidad del estadio se implementen para garantizar la seguridad de los fanáticos durante la temporada 2021 y se anunciarán antes de la temporada. Los horarios de los partidos y el calendario promocional del equipo se darán a conocer en una fecha posterior.
El calendario de la temporada de Blue Wahoos 2021 es el siguiente:
4-9 mayo en Mississippi Braves
11-16 mayo vs Birmingham Barons
18-23 mayo vs Rocket City Trash Pandas
25-30 mayo en  Biloxi Shuckers
1-6 junio vs Mississippi Braves
8-13 junio en Chattanooga Lookouts
15-20 junio vs Montgomery Biscuits
22-27 junio en Birmingham Barons
29 junio-4 julio vs Biloxi Shuckers
6-11 julio en Mississippi Braves
13-18 julio vs Chattanooga Lookouts
20-25 julio en Montgomery Biscuits
27 julio-August 1 vs Mississippi Braves
3-8 agosto en Biloxi Shuckers
10-15 agosto vs Montgomery Biscuits
17-22 agosto vs Biloxi Shuckers
24-29 agosto en Mississippi Braves
31 agosto-5 septiembre en Montgomery Biscuits
7-12 septiembre vs. Biloxi Shuckers
14-19 septiembre en Rocket City Trash Pandas
Blue Wahoos Announce 2021 Season Schedule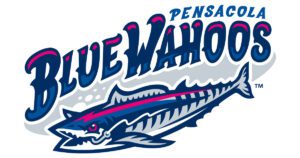 PENSACOLA, Fla. – The 2021 season schedule for the Pensacola Blue Wahoos was released by Major League Baseball. The team will play 120 games this season, including 60 home games in Pensacola, between May 4 and September 19.
Under the new Professional Development License system through Major League Baseball, the Blue Wahoos will play as part of the Double-A South league which features Pensacola, Biloxi, Mississippi, and Montgomery in the South Division and Birmingham, Chattanooga, Rocket City, and Tennessee in the North Division.
The league will adopt a six-game series format in 2021 with teams playing Tuesday through Sunday each week. Mondays will serve as a league-wide off-day to facilitate team travel.
The Blue Wahoos season will begin on the road against the Mississippi Braves on May 4-9. Pensacola will host the Birmingham Barons on May 11 for their home opener to begin a 12-game homestand that will feature the Barons (May 11-16) and the team's first-ever match-up against the Rocket City Trash Pandas (May 18-23). The team's final home series will be held September 7-12 against Biloxi with the Blue Wahoos ending their series on the road against Rocket City September 14-19.
Stadium capacity limits are expected to be implemented to ensure fan safety during the 2021 season and will be announced leading up to the season. Game times and the team's promotional schedule will be released at a later date.
The Blue Wahoos 2021 season schedule is as follows: 
May 4-9 at Mississippi Braves
May 11-16 vs Birmingham Barons
May 18-23 vs Rocket City Trash Pandas
May 25-30 at Biloxi Shuckers
June 1-6 vs Mississippi Braves
June 8-13 at Chattanooga Lookouts
June 15-20 vs Montgomery Biscuits
June 22-27 at Birmingham Barons
June 29-July 4 vs Biloxi Shuckers
July 6-11 at Mississippi Braves
July 13-18 vs Chattanooga Lookouts
July 20-25 at Montgomery Biscuits
July 27-August 1 vs Mississippi Braves
August 3-8 at Biloxi Shuckers
August 10-15 vs Montgomery Biscuits
August 17-22 vs Biloxi Shuckers
August 24-29 at Mississippi Braves
August 31-September 5 at Montgomery Biscuits
September 7-12 vs. Biloxi Shuckers
September 14-19 at Rocket City Trash Pandas
[adrotate group="1"]