Baby Shark Live!
PENSACOLA, Fla. – La experiencia musical familiar única en su tipo, Baby Shark, se presentará en el Pensacola Bay Center el sábado 19 de junio de 2021 a las 2 p.m. Los boletos para este espectáculo familiar saldrán a la venta al público el viernes 23 de abril de 2021 a las 10 am y se pueden comprar en línea en Ticketmaster.com, en persona en el Pensacola Bay Center o cobrar por teléfono llamando al 800-745-3000.
El espectáculo en vivo se basa en el fenómeno de la danza y canción viral de Pinkfong, Baby Shark. Los fanáticos de todas las edades se deleitarán cuando Baby Shark se une a su amigo Pinkfong para emprender una aventura en el mar, cantando y bailando canciones nuevas y clásicas que incluyen Five Little Monkeys, Wheels on the Bus, Jungle Boogie, Monkey Banana Dance y, por supuesto, ¡Bebé tiburón!
Baby Shark, la canción de éxito mundial de Pinkfong sobre una familia de tiburones, ha escalado en las listas y se ha conectado con fanáticos de todo el mundo. Después de ingresar al Billboard Hot 100 en el puesto 32, la canción ha tenido una racha de 17 semanas en el Top 50 mientras encabeza la lista de ventas de canciones digitales para niños. El video de baile Baby Shark  tiene más de 5.7 billones de visitas, lo que lo convierte en el segundo video más visto en la historia de YouTube.
¡Los fanáticos pueden visitar babysharklive.com y seguir a Baby Shark Live! en las redes sociales para obtener actualizaciones y contenido interesante.
Baby Shark Live!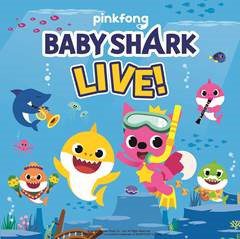 PENSACOLA, Fla. – The one-of-a-kind smash-hit family musical experience, Baby Shark, will play the Pensacola Bay Center on Saturday, June 19, 2021 at 2 p.m. Tickets for this family-friendly show will go on sale to the public on Friday, April 23, 2021 at 10 a.m. and can be purchased online at Ticketmaster.com, in person at the Pensacola Bay Center or charge by phone by calling 800-745-3000.
The live show is based on Pinkfong's viral earworm and global dance phenomenon, Baby Shark. Fans of all ages will delight as Baby Shark joins up with his friend Pinkfong to take an adventure into the sea, singing and dancing through new and classic songs including Five Little Monkeys, Wheels on the Bus, Jungle Boogie, Monkey Banana Dance and of course, Baby Shark!
Baby Shark, Pinkfong's global hit song about a family of sharks, has climbed the charts and connected with fans around the globe. After entering the Billboard Hot 100 at #32, the song has had a 17-week streak in the Top 50 while topping the Kids Digital Song Sales Chart. The Baby Shark Dance video has over 5.7 billion views, making it the 2nd  most viewed video in the history of YouTube.
Fans can visit babysharklive.com and follow Baby Shark Live! on social media for updates and exciting content. 
[adrotate group="1"]