Estudiante mexicano se como primero de su clase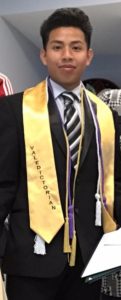 MOBILE, Ala.—Este es Luis A. Aguilar, es un ciudadano mexicano que llegó a los Estados Unidos hace cinco años. Él está en su ultimo año en Ben. C. Rain High School en Mobile, Alabama, y también el mejor egresado de su clase de graduación con un promedro acumulado de 4.03. El joven podría ser el primer estudiante  de herencia Mexicana que se destaca como mejo egresado en Ben Rain.
Cuando Aguilar comenzó el octavo grado en Pillans Middle School, no podia hablar inglés. El estudiante ha enfrentado cada obstáculo mientras se centra en una educación que, según sus padres, será la llave del éxito. También es un orgulloso miembro de la National Honor Society, National Technical Honor Society, el equipo de fútbol americano, el equipo de balompié y además ha tomado cursos universitarios mientras completa su educación escolar de secundaria.
Como si sus actividades escolares no fueran suficientes, Aguilar también trabaja medio tiempo tiempo parcial haciendo trabajos de construcción. Recientemente becas por miles de dólares, así como la admisión a varios colegios y universidades locales y estatales.
"Todo lo que he logrado en los últimos años no ha sido fácil para mí," dijo Aguilar. "Mis metas inmediatas para el futuro son estudiar ingeniería mecánica y de alguna manera devolver a mis padres y a otros que han creído en mí todo el tiempo."
Estudiantes como Luis continúan destacando las contribuciones positivas de los inmigrantes en los Estados Unidos. Aguilar es uno de los miles que se gradúan de las escuelas secundarias y de las colegios en la Costa del Golfo. Felicitaciones a la clase del 2017!
Mexican student graduates as valedictorian
MOBILE, Ala.—This is Luis A. Aguilar. He is a Mexican citizen who came to the United States five years ago.  He is a senior at Ben. C. Rain High School in Mobile, Alabama.  He is also the valedictorian of his graduating class with a GPA of 4.03, and may be the first valedictorian of Mexican heritage at Ben Rain. 
Aguilar started eighth grade at Pillans Middle School not able to speak English.  He has fought every obstacle while focusing on an education which, according to his parents, is the key to success. He is also a proud member of the National Honor Society, National Technical Honor Society, the football team, the soccer team, and has taken college-level courses while completing his high school education.
As if his school activities weren't enough, Aguilar also works part time doing construction work. He was recently granted thousands of dollars in scholarships as well as admission to several local and state colleges and universities.
 "Everything that I've accomplished in the last few years has not been easy for me," Aguilar said. "My immediate future goals are to study mechanical engineering and somehow give back to my parents and to others who have believed in me all along."
 Students like Luis continue to highlight the positive contributions of immigrants in the United States. He is one of thousands graduating from high schools and colleges throughout the Gulf Coast. Congratulations to the class of 2017!
[adrotate group="1"]