Aires acondicionados donados para personas mayores
PENSACOLA, Fla. – El Council on Aging of West Florida recibió un número récord de aires acondicionados para ventanas, ventiladores y donaciones monetarias para su evento anual "Chill Out". El viaje de un día le permite al Council on Aging ayudar a más de 400 adultos mayores que se han comunicado con la agencia y que actualmente tienen aire acondicionado inadecuado y complicaciones de salud relacionadas. Las cinco ubicaciones de Lowe's en los condados de Escambia y Santa Rosa aceptaron donaciones por un total de 348 aires acondicionados, 463 fanáticos y $20,674, superando el récord del año pasado de 269 AC, 286 fanáticos y $14,500.
El caluroso verano de la Florida es un desafío para los adultos mayores de bajos ingresos que a menudo no tienen aire acondicionado. La mala salud y los medicamentos recetados pueden exacerbar aún más los efectos del calor peligrosamente alto. Los adultos mayores pueden desorientarse y descuidar la nutrición y el sueño adecuados, simplemente por el alto nivel de malestar que pueden traer las temperaturas de más de 90 grados. Sin el alivio del calor, el verano es una crisis de salud insegura y, a veces, mortal, que solo puede abordarse con el aire acondicionado adecuado.
"Este verano pareció llegar temprano y con fuerza, porque nuestros teléfonos han estado sonando con llamadas de adultos mayores desesperados que merecen seguridad y dignidad en sus propios hogares. Esa seguridad y dignidad requiere aire acondicionado durante el verano en Florida ", dijo John Clark, Presidente / CEO de Council on Aging.
Las personas mayores que necesitan unidades de aire acondicionado y/o ventiladores deben llamar al Council on Aging of West Florida al (850) 432-1475 para completar una evaluación por teléfono.
Air conditioners donated for elderly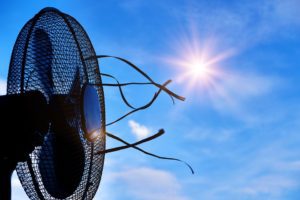 PENSACOLA, Fla. – The Council on Aging of West Florida received a record number of window air conditioners, fans and monetary donations for their annual "Chill Out" event. The one-day drive enables Council on Aging to assist the more than 400 senior adults who have contacted the agency and currently have inadequate air conditioning and related health complications. Five Lowe's locations across Escambia and Santa Rosa counties accepted donations totaling 348 air conditioners, 463 fans and $20,674, beating last year's record of 269 ACs, 286 fans and $14,500.
The hot Florida summer is a challenge for low-income elder adults who often have no source of air conditioning. Poor health and prescribed medications can further exacerbate the effects of dangerously high heat. Senior adults can become disoriented and neglect proper nutrition and sleep, due simply to the high level of discomfort that 90-plus-degree temperatures can bring. Without relief from the heat, the summer is an unsafe and sometimes deadly health crisis, one that can only be addressed with proper air conditioning.
"This summer seemed to come early and with a vengeance, because our phones have been ringing with calls from desperate elder adults who deserve safety and dignity in their own homes. That safety and dignity requires air conditioning during the summer in Florida," said John Clark, President/CEO of Council on Aging.
Senior citizens in need of air conditioners units and/or fans should call Council on Aging of West Florida at (850) 432-1475 to complete a telephone assessment.  
[adrotate group="1"]