Abierto Ahora: Carniceria Mi Pueblito
SUMMERDALE, Ala.—Carniceria Mi Pueblito celebró su inauguración el domingo 2 de julio. La nueva tienda está ubicada en el antiguo sitio de la Tienda San Francisco en Summerdale, AL en el 804 Hwy 59.
La tienda celebró con la música proporcionada por DJ Roel, un b rinca brinca para los niños y un concurso para los boletos del jaripeo de julio en Pensacola.
Casi 3.000 vistas del anuncio de la gran inauguración se vieron a través de la página de Facebook de La Costa Latina, y la comunidad sigue felicitando a los nuevos propietarios de la tienda. Invitan a la comunidad a pasar por su selección de carnes, frutas, verduras, quesos, ropa de bautizo y de vaquero y otros artículos. La tienda también ofrece servicios de transferencia de dinero.
La tienda está abierta diariamente de 9 a.m. hasta las 8 p.m.
Now Open: Carniceria Mi Pueblito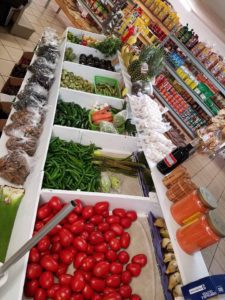 SUMMERDALE, Ala.—Carniceria Mi Pueblito celebrated their grand opening on Sunday, July 2. The new store is located in the old site of Tienda San Francisco in Summerdale, AL at 804 Hwy 59.
The store celebrated with music provided by DJ Roel, a bounce house for the kids and a drawing for tickets to the July jaripeo in Pensacola.
Nearly 3,000 views of the announcement for the grand opening were viewed via La Costa Latina's Facebook page, and the community continues to congratulate the new owners of the store. They invite the community to browse their selection of meats, fruits, vegetables, cheeses, baptism and cowboy apparel and other items. The store also offers money transfer services.
The store is open from 9 a.m. until 8 p.m. daily.