10th Annual Latin Salsa Festival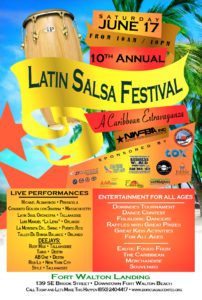 Algunas personas toman un crucero por el Caribe cada año. Los que han experimentado el Latin Salsa Festival han disfrutado de algunas de las razones porque los cruceros por el Caribe es tan popular. En las calles del Viejo San Juan y el Latin Salsa Festival se encuentran auténtica cocina caribeña, salsa y música folclórica, la simpatía de las islas y las variedades de souvenirs y vendedores de mercancías.
Todos están invitados al Latino Salsa Festival en el parque "the Landing" (139 Brooks St. NE, Fort Walton Beach, 32547) el sábado 17 de junio de 10 a.m. hasta las 10 p.m. para experimentar todo. Venga con hambre. ¡No olvide sus sandalias! La admisión es gratis. WEPÁ!
Some people take a cruise through the Caribbean each year. Those who have experienced the Latin Salsa Festival have enjoyed some of the reasons a Caribbean cruise is so popular. Authentic Caribbean cuisine, Salsa and folkloric music, island friendliness and the varieties of souvenirs and merchandise vendors are all found in the streets of Old San Juan and the Latin Salsa Festival.
All are invited to the Latin Salsa Festival at the Landing (139 Brooks St. NE, Fort Walton Beach, 32547) Saturday, June 17 from 10 a.m. until 10 p.m. to experience it all. Come hungry. Don't forget your dancing sandals! Admission is free. WEPÁ!
[adrotate group="1"]