Los Blue Wahoos presentarán una película y fuegos artificiales para el día del padre
PENSACOLA, Fla. – Los Pensacola Blue Wahoos darán la bienvenida a los padres el sábado 20 de junio para una Noche especial de películas y fuegos artificiales en el Blue Wahoos Stadium con un espectáculo de fuegos artificiales después del cine. Las puertas se abrirán al público en general a las 6:00 p.m., y la película comenzará a las 7:00 p.m. Los boletos de admisión general cuestan $5.
Los Blue Wahoos también están ofreciendo paquetes especiales para el Día del Padre, lo que les da a las familias acceso temprano al estadio para jugar en el campo. El paquete incluye entrada temprana (5:30 PM) para agarrar en el campo de 5:30 – 6:00 PM, una pelota de béisbol de los Blue Wahoos, comidas en el estadio (salchichas, papas fritas y bebida) y admisión a la película y los fuegos artificiales. Un paquete para cuatro personas para el Día del Padre cuesta $50 y un paquete para dos personas cuesta $30.
Durante la película y el espectáculo de fuegos artificiales, los invitados tendrán la oportunidad de sentarse en el campo del Blue Wahoos Stadium para ver la película en el tablero de video del estadio. No se permitirá a ningún grupo de más de 10 personas sentarse juntos y todos los grupos separados deberán sentarse a un mínimo de seis pies de distancia de acuerdo con las pautas de distancia física locales y estatales.
Las concesiones de estilo para llevar estarán disponibles durante el evento en múltiples puntos en todo el estadio. La tienda Bait & Tackle Team Store también estará abierta ofreciendo ropa de los Blue Wahoos y mercancía que brilla en la oscuridad.
No se permitirán traer sillas, comida o bebidas al evento. Se recomienda a los invitados que traigan una manta para que su grupo se siente. Los fanáticos también tendrán la opción de sentarse en las gradas del estadio.
La seguridad de los huéspedes sigue siendo la máxima prioridad para el equipo. Se requiere que todo el personal de los Blue Wahoos use máscaras faciales y guantes mientras están en la propiedad del estadio de béisbol, y todos los miembros del personal deben tomarse la temperatura diariamente antes de ser admitidos en el estadio. El personal estará presente durante todo el evento para garantizar que los invitados practiquen distanciamiento físico mientras disfrutan de la película y los fuegos artificiales.
La noche comunitaria de películas y fuegos artificiales ha sido posible gracias al apoyo de Covenant Care, Hill-Kelly Dodge Chrysler Jeep Ram, WEAR TV y Pen Air Federal Credit Union.
Blue Wahoos host Father's Day movie & fireworks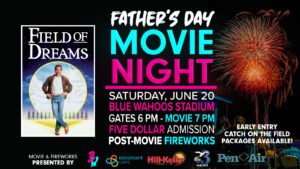 PENSACOLA, Fla. – The Pensacola Blue Wahoos will welcome fathers to the ballpark on Saturday, June 20 for a special Father's Day Movie & Fireworks Night at Blue Wahoos Stadium featuring a showing of the baseball classic Field of Dreams with a post-movie fireworks show. Gates will open to the general public at 6 p.m., and the movie will start at 7 p.m. General admission tickets are $5.
The Blue Wahoos are also offering special Father's Day Toss Packages, giving families early access to the stadium to play catch on the field. The package includes early entry (5:30 PM) for catch on the field from 5:30-6 p.m., a Blue Wahoos baseball, ballpark meals (hotdog, chips, and drink), and admission to the movie and fireworks. A four-person Father's Day Toss Package is $50 and a two-person package is $30.
During the movie and fireworks show, guests will have the opportunity to sit on the field at Blue Wahoos Stadium to watch the movie on the stadium's videoboard. No group larger than ten people will be permitted to sit together and all separate groups will be required to sit a minimum of six feet apart in accordance with local and state physical distancing guidelines.
Grab-and-go style concessions will be available during the event at multiple points throughout the stadium. The Bait & Tackle Team Store will also be open offering Blue Wahoos apparel and glow-in-the-dark merchandise.
No chairs or outside food or drink will be permitted. Guests are encouraged to bring a blanket for their group to sit on. Fans will also have the option to sit in the stadium's stands.
Guest safety remains top priority for the team. All Blue Wahoos staff are required to wear face masks and gloves while on ballpark property, and all staff members have their temperature taken daily before being admitted to the stadium. Staff will be in place throughout the event to ensure guests practice physical distancing while enjoying the movie and fireworks.
The community movie and fireworks night has been made possible thanks to the support of Covenant Care, Hill-Kelly Dodge Chrysler Jeep Ram, WEAR TV, and Pen Air Federal Credit Union.
[adrotate group="1"]