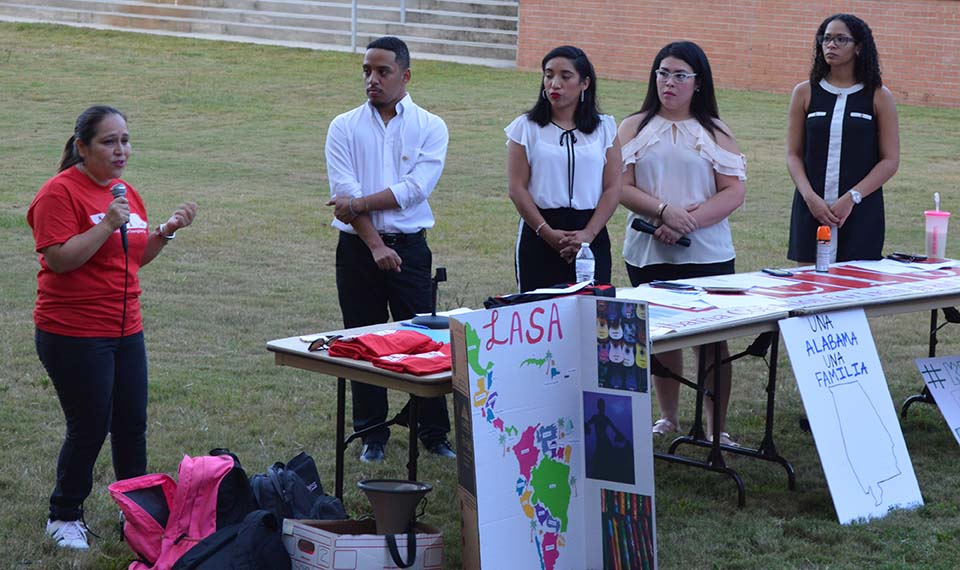 La comunidad de USA se reúne para apoyar a los "Dreamers"
Por Marylyn Gafford
MOBILE, Ala.—El jueves por la tarde, la Asociación de Estudiantes Latinoamericanos (LASA) de la Universidad de South Alabama y la Coalición por la Justicia de los Inmigrantes de Alabama (ACIJ) tenían una manifestación para apoyar a la gente que están parte del programa de DACA.
Según Viviana Rodríguez, un miembro del comité de la ACIJ, la meta de la manifestación fue concientizar sobre DACA y personificar lo que es un receptor de DACA. Unos miembros de la ACIJ leyeron a la audiencia testimonios personales desde unos receptores de DACA, o "dreamers," de nuestra propia comunidad en un esfuerzo a clarificar exactamente a que tipo de gente la cancelación de DACA afectará: jóvenes trabajadores y respetables que tienen mucho que contribuir a nuestra sociedad.
Después de leer unos de los testimonios de los dreamers, miembro de la ACIJ Veronica Puga hizo a la audiencia una propuesta de actuación.
"Es la hora que intensificamos y hacemos una diferencia," ella dijo, citando como cambios sociales han ocurrido en el pasado a través del activismo. "Nada se cumple si no hacemos nada."
Entonces Puga urgió a la audiencia que hablen en nombre de los que no tienen una voz. Esto se puede hacer utilizando los medios sociales, llamando a sus representantes, y participando con organizaciones como LASA y ACIJ que están trabajando todos los días para apoyar a los dreamers en nuestra comunidad.
USA Community Gathers to Support "Dreamers"
by Marylyn Gafford
MOBILE, Ala.—On Thursday night, the University of South Alabama's Latin American Student Association (LASA) and the Alabama Coalition for Immigrant Justice (ACIJ) held a rally in support of those who are currently protected under DACA, or the Deferred Action for Childhood Arrivals program.
According to ACIJ board member Viviana Rodriguez, the goal of the rally was to raise awareness and personify what a DACA recipient is. Members of the ACIJ read aloud personal testimonies from DACA recipients, or "dreamers," from our very own community in an effort to shed light on exactly what kind of people the rescindment of DACA will affect: hardworking, respectable young people who have a lot to contribute to our society.
After reading some of the dreamers' stories, ACIJ member Veronica Puga called on the audience to take action.
"It's time that we step up and make a difference," she stated, citing how social change has come about through activism in the past. "Nothing is going to get done if we don't do anything about it."
Puga then urged the audience members to speak up for those without a voice. This can be done by using social media, calling their representatives, and joining organizations such as LASA and the ACIJ that are working every day to support the dreamers in our community.
[adrotate group="1"]