City, Blue Wahoos ampliará la red protectora en el estadio  Blue Wahoos
PENSACOLA, FL – La ciudad de Pensacola y Pensacola Blue Wahoos se han asociado para expandir la red protectora en el Estadio Blue Wahoos, aumentando la seguridad para los fanáticos y los empleados debido a las preocupaciones sobre los peligros de las pelotas sucias (foul) en las ligas menores de béisbol.
La red protectora ahora se extenderá a lo largo de ambas líneas de base en el estadio, lo que protegerá a los fanáticos en las gradas mientras disfrutan del juego. La ciudad de Pensacola está pagando el costo de la red, y los Blue Wahoos están ejecutando el contrato e instalando las redes. Se espera que la red adicional se instale para el día de apertura de la temporada 2020, que es el jueves 9 de abril.
"Tenemos una gran asociación con los Pensacola Blue Wahoos y nos complace brindar esta seguridad adicional a los fanáticos mientras continúan disfrutando del béisbol de ligas menores aquí en Pensacola," dijo el alcalde Grover Robinson. "Los Blue Wahoos son un gran activo en nuestra comunidad, y esperamos una temporada maravillosa y segura para su equipo, empleados y fanáticos."
Esta temporada, los 30 equipos de las Grandes Ligas de Béisbol están ampliando las redes en sus respectivos estadios. Además, los Blue Wahoos se unen a 18 equipos de la Liga Menor que han anunciado que extenderán su red antes del Día de Apertura 2020.
"Realmente felicitamos al Mayor Robinson por intensificar y poner la seguridad de los fanáticos primero," dijo el dueño de Blue Wahoos, Quint Studer. "Sé que los Minnesota Twins están encantados con la decisión de la ciudad de Pensacola y ciertamente estamos encantados con la decisión de la ciudad de extender la red."
La red instalada aún permitirá a los fanáticos oportunidades para autógrafos de jugadores. Una parte de la red será retráctil para permitir a los jugadores firmar autógrafos antes del juego en ciertas áreas a lo largo de la línea de base.
La red es de aproximadamente 30 pies por 84 pies y se extenderá desde la posición actual al final de ambos refugios hasta el poste de falta, una distancia de aproximadamente 250 pies.
El 29 de mayo de 2019, una niña de 2 años fue golpeada por una pelota sucia (foul) en un juego de los Astros de Houston y sufrió lesiones graves. Este incidente aumentó aún más las llamadas en todo el béisbol para extender la red.
"Nuestros jugadores la temporada pasada se dirigieron a los Twins y dijeron: 'Estamos nerviosos por las pelotas sucias (foul) que entran a los asientos del estadio Blue Wahoos'," dijo Studer. "Los Twins luego me escribieron una carta a mí y a la ciudad de Pensacola solicitando que se extendiera la red. Se basó en las preocupaciones de los jugadores por nuestros fanáticos."
Blue Wahoos y los líderes de la ciudad de Pensacola acordaron que la seguridad de los fanáticos y el público es la prioridad número uno en el estadio y decidieron trabajar juntos para extender la red.
"Comenzamos a calcular los datos y se convirtió en un 'must-have' para nuestro estadio," dijo Studer. "Muchas personas miran sus teléfonos o llevan a sus hijos pequeños a los juegos. Queremos que la gente se relaje durante los juegos, y creo que esto traerá una atmósfera más relajada." 
City, Blue Wahoos To Expand Protective Netting At Blue Wahoos Stadium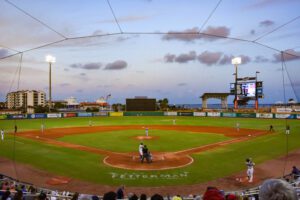 PENSACOLA, FL – The City of Pensacola and Pensacola Blue Wahoos have partnered to expand the protective netting at Blue Wahoos Stadium, increasing safety for fans and employees as concerns about the dangers of foul balls increase throughout Minor League Baseball.
The protective netting will now run the entire length of both baselines at the stadium, which will protect fans in the stands while they are enjoying the game. The City of Pensacola is paying for the cost of the netting, and the Blue Wahoos are executing the contract and installing the nets. The additional netting is expected to be installed by opening day for the 2020 season, which is Thursday, April 9.
"We have a great partnership with the Pensacola Blue Wahoos and are glad to provide this additional safety for fans as they continue to enjoy Minor League Baseball here in Pensacola," Mayor Grover Robinson said. "The Blue Wahoos are a tremendous asset in our community, and we are looking forward to a wonderful, safe season ahead for their team, employees and fans."
This season, all 30 Major League Baseball teams are extending netting at their respective stadiums. In addition, the Blue Wahoos join 18 Minor League teams who have announced they will extend their netting prior to Opening Day 2020.
"We really commend Mayor Robinson for stepping up and putting fan safety first," Blue Wahoos owner Quint Studer said. "I know the Minnesota Twins are thrilled with the City of Pensacola's decision and we are certainly thrilled with the city's decision to extend the netting."
The installed netting will still allow fans opportunities for player autographs. A portion of the netting will be retractable to allow players to sign autographs prior to the game at certain areas along the baseline.
The netting is approximately 30 feet by 84 feet and will be extended from the current position at the end of both dugouts to the foul pole — a distance of approximately 250 feet.
[adrotate group="1"]