Retiro de cereales
En junio, Kellogg Company anunció su retiro voluntario de 15.3 oz. y 23 oz paquetes de cereal Kellogg's ® Honey Smacks ® (con las fechas del código que se detallan a continuación) porque estos productos tienen la presencia potencial de Salmonella. Ningún otro producto de Kellogg se ve afectado por este retiro.
Desde la última actualización el 12 de julio del 2018, 30 personas enfermas se han agregado a esta investigación. Al 30 de agosto del 2018, 130 personas infectadas con el brote de Salmonella Mbandaka han sido reportadas en 36 estados
Kellogg inició una investigación con el fabricante externo que produce Honey Smacks inmediatamente después de ser contactado por la Administración de Alimentos y Medicamentos (FDA) y los Centros para el Control de Enfermedades (CDC) con respecto a las enfermedades informadas.
Según los CDC, el uso o consumo de productos contaminados con Salmonella puede provocar una enfermedad grave. También puede producir infecciones graves y, en ocasiones, fatales en niños pequeños, personas débiles o de edad avanzada y otras personas con sistemas inmunes debilitados. Las personas sanas infectadas con Salmonella pueden experimentar fiebre, diarrea, náuseas, vómitos y dolor abdominal. La enfermedad generalmente dura de cuatro a siete días, y la mayoría de las personas se recuperan sin tratamiento. En raras circunstancias, la infección con Salmonella puede provocar que el organismo ingrese al torrente sanguíneo y produzca enfermedades más graves.
CÓMO IDENTIFICAR EL PRODUCTO RETIRADO
El producto afectado incluye las siguientes variedades distribuidas en los Estados Unidos, así como una distribución limitada en Costa Rica, Guatemala, México, el Caribe, Guam, Tahití y Saipan. LO MEJOR es si se usa por fecha se puede encontrar en la parte superior de la caja del cereal, y el código UPC se puede encontrar en la parte inferior de la caja.
Kellogg está pidiendo a las personas que compraron productos potencialmente afectados que lo descarten y se comuniquen con la compañía para obtener un reembolso completo. Los consumidores que deseen obtener más información, incluidas las imágenes de estos productos, pueden visitar kelloggs.com/honeysmacksrecall o llamar al 1-800-962-1413 de lunes a viernes, de 9 a.m. a 6 p.m. ET, así como los sábados y domingos de 10 a.m. – 4 p.m. ET.
Cereal recall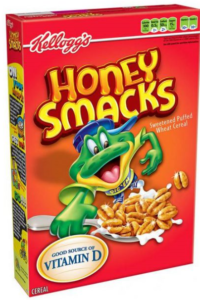 In June, Kellogg Company announced its voluntarily recall of 15.3 oz. and 23 oz. packages of Kellogg's ® Honey Smacks ® cereal (with code dates listed below) because these products have the potential presence of Salmonella. No other Kellogg products are impacted by this recall.
Since the last update on July 12, 2018, 30 ill people have been added to this investigation. As of August 30, 2018, 130 people infected with the outbreak strain of Salmonella Mbandaka have been reported from 36 states
Kellogg launched an investigation with the third-party manufacturer who produces Honey Smacks immediately after being contacted by the Food & Drug Administration (FDA) and Centers for Disease Control (CDC) regarding reported illnesses.
According to the CDC, use or consumption of products contaminated with Salmonella may result in serious illness. It can also produce serious and sometimes fatal infections in young children, frail or elderly people and others with weakened immune systems. Healthy individuals infected with Salmonella can experience fever, diarrhea, nausea, vomiting and abdominal pain. The illness usually lasts four to seven days, and most persons recover without treatment. In rare circumstances, infection with Salmonella can result in the organism getting into the bloodstream and producing more severe illnesses.
HOW TO IDENTIFY THE RECALLED PRODUCT
The affected product includes the following varieties distributed across the United States as well as limited distribution in Costa Rica, Guatemala, Mexico, the Caribbean, Guam, Tahiti and Saipan. The BEST if Used By Date can be found on the top of the cereal box, and the UPC code can be found on the bottom of the box.
Kellogg is asking that people who purchased potentially affected product discard it and contact the company for a full refund. Consumers seeking more information, including images of these products, can visit kelloggs.com/honeysmacksrecall or call 1-800-962-1413 from Monday – Friday, from 9 a.m. to 6 p.m. ET as well as Saturday and Sunday from 10 a.m. – 4 p.m. ET.
[adrotate group="1"]