Venta de precios fijos en el vertedero en del condado de Walton
WALTON COUNTY, FLA.–El condado de Walton realizará una venta a precio fijo el sábado 5 de mayo de 7 a.m. a 10 a.m. en el Vertedero del Condado ubicado al norte de DeFuniak Springs, junto a la carretera 83 Norte.
La venta de precio fijo puede incluir muebles, computadoras, monitores, objetos de colección, antigüedades, equipos de playa, artículos deportivos, herramientas y artículos de construcción y mucho más. Esta venta no incluye vehículos.
Los artículos que se venderán en la venta de garaje incluyen artículos que el condado ha excedido que el condado ya no usa ni necesita, así como los artículos que se recolectan a través del programa de reciclaje del condado en el relleno sanitario.
Las compuertas del vertedero se abrirán a las 6:30 a.m. Para facilitar el estacionamiento, sin embargo, no se permitirá la entrada a la venta hasta las 7 a.m.
La siguientes reglas estarán en su lugar para este evento:
El condado no realizará una vista previa a la venta.
Los artículos deben pagarse con efectivo o cheque local.
Todos los artículos se venderán por orden de llegada.
Todos los artículos tienen un precio marcado y no serán negociados.
Todos los artículos se compran como están y no contienen responsabilidad o garantía del condado.
Todos los artículos comprados deben ser removidos de los terrenos después de la compra. (Se proporcionará asistencia con la carga)
Todas las ventas son finales.
Todos los artículos deben ser pagados en el momento de la venta y no pueden ser retenidos.
No se permitirá el almacenamiento de mercaderías.
Además del programa de subasta pública en curso del condado, estas ventas de precio fijo dan al condado una oportunidad adicional para ofrecer sus artículos excedentes al público para su compra.
Si tiene alguna pregunta, comuníquese con el Departamento de Información Pública del condado al 850-892-8155.
Fixed price sale at Walton County Landfill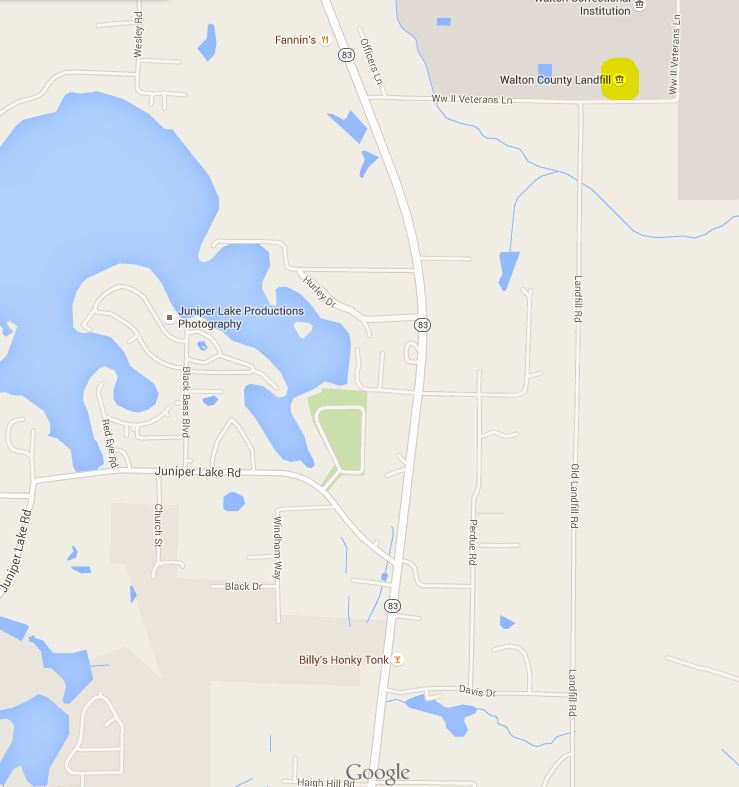 WALTON COUNTY, Fla.–Walton County will be hosting a fixed price yard sale on Saturday, May 5th, from 7am to 10am at the County Landfill located north of DeFuniak Springs off Highway 83 North.
The fixed price sale may include furniture, computers, monitors, collectibles, antiques, beach equipment, sporting goods, tools and construction items and much more.  This sale does not include vehicles.
Items that will be sold at the yard sale include items that the county has surplused that are no longer used or needed by the County, as well as items that are collected through the County's recycling program at the landfill.
The landfill gates will open at 6:30am to facilitate parking, however entrance to the sale will not be allowed until 7am.
The following rules will be in place for this event:
The County will not be holding a pre-sale viewing.
Items must be paid for with Cash or local check.
All items will be sold on a first come, first serve basis.
All items are priced as marked and will not be negotiated.
All items are purchased as is and contain no County liability or warranty.
All purchased items must be removed from the grounds following purchase. (Assistance with loading will be provided)
All sales will be final.
All items must be paid for at time of sale and cannot be held.
Stockpiling of merchandise will not be permitted.
In addition to the County's ongoing public auction program, these fixed price sales give the County an additional to opportunity to offer their surplus items to the public for purchase.
If you should have any questions, please contact the County's Public Information Department at 850-892-8155.