Temporada de los Salvavidas de Pensacola Beach Termina el 16 Oct.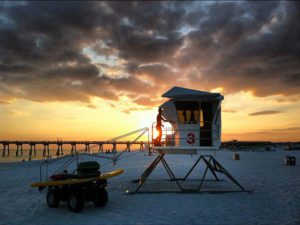 PENSACOLA BEACH, Fla.—Los salvavidas de Pensacola Beach serán cambiandos a los niveles de personal de invierno a partir del domingo 16 de octubre, cuando se retiren a los salvavidas de las torres de la playa hasta la temporada 2017. Los salvavidas mantendrán una presencia en Pensacola Beach durante todo el invierno principalmente a través de vehículos de patrulla, pero estarán presentes en la ubicación de Casino Beach sólo después del 16 de Oct.

Desde el 1 de marzo los salvavidas de Pensacola Beach han realizado 90 rescates en zonas vigiladas de la playa y 63 rescates en zonas no vigiladas, además de 415 asistencias a los nadadores que tubieron experiencias de problemas moderados en las zonas vigiladas y sin vigilancia. Los salvavidas también se pusieron en contacto con los bañistas más de 93.000 veces durante la temporada 2016, que proporciona información acerca de la resaca, indicadores de condiciónes de la playa y otros consejos de seguridad. Se insta a los residentes y visitantes a tener precaución cuando visiten la playa y naden en el Golfo, sobre todo cuando los salvavidas no esten presentes.

Siga las publicaciones de señales de advertencia y condiciónes en la playa:
Bandera Verde – Significa "baja peligrosidad", pero todavía se debe tener precaución.
Bandera Amarilla – Significa "corrientes moderadas y condiciones", tales como las corrientes de resaca. Los nadadores deben ejercer precaución al entrar en el agua.
Bandera Roja – "corrientes fuertes y oleaje alto," no nadar o vadear. Entrar en el Golfo de México a nadar o vadear en condiciones de bandera roja es ilegal en el condado de Escambia.
Banderas Rojas Dobles – Sólo se utilizan durante los huracanes y otros desastres naturales. No nadar, vadear o navegar en el Golfo de México. Al entrar en el Golfo de México durante las condiciones de banderas rojas dobles es ilegal en el condado de Escambia.
Bandera Púrpura – Significa "fauna marina peligrosa" puede estar presente. Por favor tenga cuidado al entrar en el agua.
Siga todas las reglas de Pensacola Beach, incluyendo:
Los envases de vidrio no son permitidos en la playa.
El lado oeste de Pensacola Beach Gulf Pier es una zona libre de alcohol.
Recipientes abiertos no están permitidos en el malecón o fuera de cualquier establecimiento.
Nada de alcohol puede ser consumido o en cualquier estacionamiento en Santa Rosa Island.
No se permiten perros que no sean animales de servicio en cualquiera de las playas, salvo en los parques para perros designados. Para ver las reglas y los límites completos para parques para perros en Pensacola Beach, haga clic aquí.
Para condiciones de bandera diarias y más información sobre los salvavidas de Pensacola Beach, visite la página de Pensacola Beach Lifeguards de MyEscambia.com o el Pensacola Beach Lifeguards Facebook.

Pensacola Beach Lifeguard Season Ends Oct. 16

PENSACOLA BEACH, Fla.—Pensacola Beach Lifeguards will be shifting to winter staffing levels beginning Sunday, Oct. 16, when the lifeguard towers will be taken off the beach until the 2017 lifeguard season. Lifeguards will maintain a presence on Pensacola Beach throughout the winter primarily via patrol vehicles, but they will have a presence at the Casino Beach location only after Oct. 16.      Since March 1, Pensacola Beach Lifeguards have performed 90 rescues in guarded areas of the beach and 63 rescues in unguarded areas, along with 415 assists to swimmers experiencing moderate distress in guarded and unguarded areas. Lifeguards also made contact with beach goers more than 93,000 times during the 2016 season, providing information about rip currents, beach condition flags and other safety tips. Residents and visitors are urged to exercise caution when visiting the beach and swimming in the Gulf, especially when lifeguards are not present.        Follow the posted beach condition flag warnings:
Green Flag – Means "low hazard," but you should still exercise caution.
Yellow flag – Indicates "moderate surf and conditions" such as rip currents. Swimmers should exercise careful caution when entering the water.
Red flag – "Strong currents and high surf," no swimming or wading. Entering the Gulf of Mexico to swim or wade during red flag conditions is illegal in Escambia County.
Double red flags – Only used during hurricanes and other natural disasters. No swimming, wading or surfing in the Gulf of Mexico. Entering the Gulf of Mexico during double red flag conditions is illegal in Escambia County.
Purple flag – Indicates "dangerous marine wildlife" may be present. Please use caution when entering the water.
Follow all Pensacola Beach rules, including:
Glass containers are not allowed on the beach.
The west side of the Pensacola Beach Gulf Pier is an alcohol free zone.
Open containers are not allowed off the boardwalk or outside any establishment.
No alcohol can be consumed in any parking lot on Santa Rosa Island.
Dogs other than service animals are not permitted on the any of the beaches except in designated dog parks. To view complete rules and boundaries for Pensacola Beach dog parks, click here.
For daily flag conditions and more information about Pensacola Beach Lifeguards, visit the Pensacola Beach Lifeguards page on MyEscambia.com or the Pensacola Beach Lifeguards Facebook.