Organización local continúa prestando asistencia a Venezuela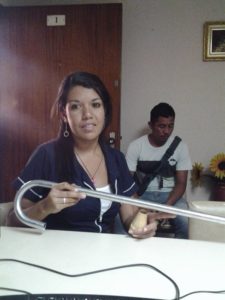 En Venezuela, "Ayuda Humanitaria para Venezuela" ha estado brindando ayuda a personas en hospitales, orfanatos y centros de vida asistidos, así como a personas en estado crítico. Actualmente, como los venezolanos están en medio de una crisis humanitaria, muchos están necesitados de las necesidades básicas.
Durante los últimos tres años, Belong, una organización comunitaria basada en Mobile, ha estado haciendo lo que puede para ayudar a la gente de Venezuela. Han estado recolectando artículos de primeros auxilios, suministros médicos, vitaminas y otros suministros. La organización dice que han tenido un gran flujo de apoyo, pero siguen necesitando muchos artículos.
"Seguimos orando siempre por las familias, niños, jóvenes y ancianos que se ven obligados a vivir en estas condiciones y carecen de sus necesidades básicas," dijo la coordinadora local de la organización, Yohana Carrillo, en un correo electrónico.
Entre algunos de los elementos necesarios son los medicamentos de venta libre y suministros médicos, proteínas y barras de cereal, fórmula para bebés, batidos de nutrición, agua potable, repelente de insectos y productos de higiene personal.
Carrillo pide que cualquiera que esté interesado en contribuir a los esfuerzos en Venezuela por favor contacte a con Carrillo al 251-421-2047 o con Juan Torres al 251-656-4953.
Local organization continues assistance to Venezuela
In Venezuela, "Ayuda Humanitaria para Venezuela" ("Humanitarian Relief for Venezuela") has been providing help to people in hospitals, orphanages and assisted living facilities as well as individuals in critical condition. Currently, as Venezuelans are in the midst of a humanitarian crisis, many are in need of basic necessities.
For the past three years, Belong, a Mobile-based community organization, has been doing what they can to help people of Venezuela. They have been collecting first aid items, medical supplies, vitamins and other supplies. The organization says that they have had a great outpouring of support, but remain in need of many items.
"We continue praying always for the families, children, youth, and elderly that are forced to live in these conditions and lacking their basic needs," said the organization's local coordinator, Yohana Carrillo, in an email.
Among some of the items needed are over-the-counter medications and medical supplies, protein and cereal bars, baby formula, nutrition shakes, potable water, insect repellent and personal hygiene products.
Carrillo asks that anyone who is interested in contributing to efforts in Venezuela to please contact Carrillo at 251-421-2047 or Juan Torres at 251-656-4953.