The Global Corner anunciada como destinataria de un cambio de imagen de marca de $150,000
PENSACOLA, Fla.—El grupo de firmas de branding idgroup en Pensacola, anunció que The Global Corner es el destinatario de su "Brand On Us" (Marca en nosotros), una iniciativa de cambio de marca que ofrece más de $150,000 en servicios de marca y mercadotecnia para organizaciones locales sin fines de lucro.
Los finalistas para el premio incluyen Milk & Honey y el Ministerio de la Comunidad Metodista Unida de Pensacola. Global Corner será el sexto receptor del premio desde que el programa comenzó en 2013.
The Global Corner es un centro de aprendizaje internacional fundado por al ex maestra, comandante de ala aérea y miembra recientemente designada de la Junta Escolar del Condado de Escambia, Lee Hansen. La organización sirve para introducir a los niños del noroeste de Florida a los idiomas, costumbres y culturas de personas de todo el mundo al ofrecer un plan de estudios y cursos educativos inmersivos a través de programas escolares, campamentos de verano y programas de idiomas después de la escuela.
"Estamos muy entusiasmados con la oportunidad de ser seleccionados como el destinatario de Brand on Us de este año", dijo la Directora Ejecutiva, Vanessa Mayes. "A través de este proceso, podremos mejorar la forma y contar nuestra historia a la comunidad sobre la necesidad de expandir la percepción de nuestros niños sobre el mundo y todas sus culturas increíblemente ricas."
idgroup, quien lidera el desarrollo de la Iniciativa, junto con su red de socios comenzará a trabajar en marzo, con un lanzamiento oficial programado para octubre de 2018.
Desde su inicio en 2013, "Brand on Us" ha impactado a las organizaciones sin fines de lucro del área por una suma de más de $800,000. Los ganadores anteriores de la iniciativa "Brand on Us" incluyen Pensacola Humane Society, Chain Reaction, Pensacola Sports, Autism Pensacola y Martha's Vineyard: The Family House.
The Global Corner announced as recipient of $150,000 brand makeover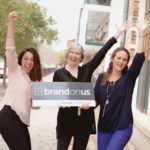 PENSACOLA, Fla.—Pensacola-based branding firm idgroup announced The Global Corner as this year's recipient of its "Brand on Us," a rebranding initiative that provides more than $150,000 in branding and marketing services to local non-profit organizations.
Runners-up for the award included Milk & Honey and Pensacola United Methodist Community Ministry. Global Corner will mark the sixth recipient of the award since the program began in 2013.
The Global Corner is an international learning center founded by former teacher, air wing commander, and recently appointed Escambia County School Board member Lee Hansen. The organization serves to introduce children of Northwest Florida to the languages, customs, and cultures of people around the world by offering fully immersive educational curriculum and courses via in-school programs, summer camp programs, and after-school language programs.
"We are so incredibly thrilled at the opportunity to be selected as this year's Brand on Us recipient," said Executive Director, Vanessa Mayes. "Through this process, we'll be able to better shape and tell our story to the community about the need for expanding our children's perception of the world and all its incredibly rich cultures."
idgroup, who leads the development of the Initiative, along with its network of partners will begin work in March, with an official launch slated for October 2018.
Since its inception in 2013, Brand on Us has impacted area non-profits to the tune of more than $800,000. Past winners of the Brand on Us initiative include Pensacola Humane Society, Chain Reaction, Pensacola Sports, Autism Pensacola, and Martha's Vineyard: The Family House.