De Alencar: Soldado del 7º grupo muerto en Afganistán
Esta historia de Kelly Humphrey fue publicada por primera vez en Northwest Florida Daily News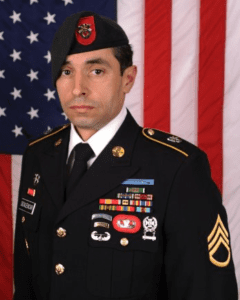 EGLIN AIR FORCE BASE (Cerca de Fort Walton Beach, Fla.)—Sargento de Personal. Mark R. De Alencar, miembro del 1er Batallón del Ejército, 7º Grupo de Fuerzas Especiales (Aerotransportado), murió el sábado después de ser herido en la provincia de Nangarhar, Afganistán. Según el Departamento de Defensa, la unidad de De Alencar había entrado en contacto con las fuerzas enemigas con armas pequeñas durante las operaciones de combate.
De Alencar, de 37 años, creció en una familia del ejército. Nació en Nuremberg, Alemania, en 1980, viajó por todo el país con su familia, estableciéndose eventualmente en Edgewood, Maryland. Se graduó de la Escuela Secundaria Jappatowne en Joppa, Maryland, en 1998.
En julio de 2009, De Alencar se unió al Ejército, graduándose del Curso de Calificación de las Fuerzas Especiales en septiembre de 2016. Sirvió como sargento de armas con el 7º SFG (A) a partir de enero.
De Alencar estaba sirviendo en apoyo de la Operation Resolute Support, que está luchando contra las fuerzas del Estado Islámico en Afganistán. Además de ser una boina verde, De Alencar se había ganado su Ranger Tab y había sido galardonado con Purple Heart. Anteriormente había servido en Irak.
De acuerdo con el Washington Post, De Alencar fue la primera víctima de combate estadounidense en Afganistán este año. El mes pasado, el séptimo SFG (A) perdió otro miembro, Sgt. Primera clase Robert Boniface, de 34 años, en la provincia de Logar en un incidente de no combate.
De Alencar tenia a su esposa, Natasha, y cinco hijos.
"En nombre de todas las Fuerzas de los EE.UU.-Afganistán, le ofrezco nuestras más profundas condolencias a la familia y amigos de nuestro compañero caído," dijo el general John Nicholson, comandante de las fuerzas estadounidenses en Afganistán, en un comunicado. "Siempre recordaremos a nuestros compañeros caídos y nos comprometemos a cumplir con su sacrificio."
De Alencar: 7th Group soldier killed in Afghanistan
This story by Kelly Humphrey first published in Northwest Florida Daily News
EGLIN AIR FORCE BASE (Near Fort Walton Beach, Fla.)—Staff Sgt. Mark R. De Alencar, a member of the Army's 1st Battalion, 7th Special Forces Group (Airborne), died Saturday after being wounded in Nangarhar Province, Afghanistan. According to the Department of Defense, De Alencar's unit had come in contact with enemy forces using small arms fire during combat operations.
De Alencar, 37, grew up in an Army family. Born in Nuremburg, Germany, in 1980, he traveled around the country with his family, eventually settling in Edgewood, Maryland. He graduated from Jappatowne High School in Joppa, Maryland, in 1998.
In July 2009, De Alencar joined the Army, graduating from the Special Forces Qualification Course in September 2016. He served as a weapons sergeant with the 7th SFG(A) starting in January.
De Alencar was serving in support of Operation Resolute Support, which is battling Islamic State forces in Afghanistan. In addition to being a Green Beret, De Alencar had earned his Ranger Tab and had been awarded a Purple Heart. He had previously served in Iraq.
According to the Washington Post, De Alencar was the first U.S. combat casualty in Afghanistan this year. Last month, the 7th SFG(A) lost another member, Sgt. 1st Class Robert Boniface, 34, in Logar Province in a non-combat incident.
De Alencar is survived by his wife, Natasha, and five children.
"On behalf of all of U.S. Forces-Afghanistan, I offer our deepest condolences to the family and friends of our fallen comrade," General John Nicholson, the commander of U.S. forces in Afghanistan, said in a statement. "We will always remember our fallen comrades and commit ourselves to deliver on their sacrifice."